12/28/2020
Discovering The Smith Center / Retrospective Series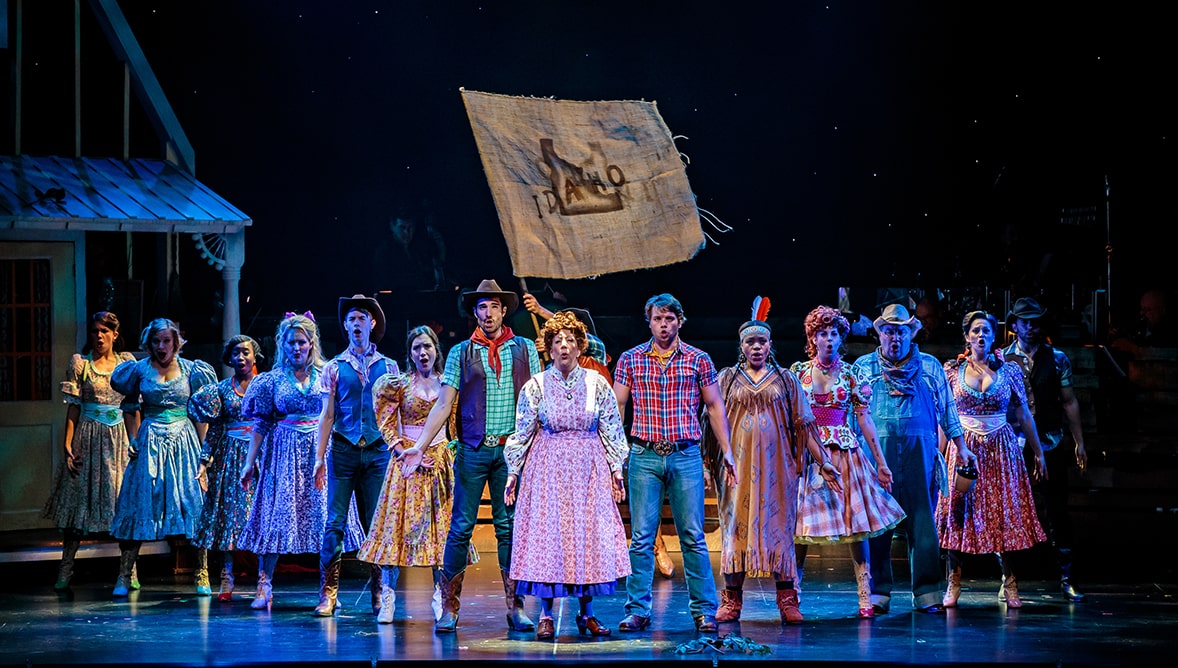 Producing an original show is no small feat for a performing arts center.
This involves tremendous responsibilities, including casting, rehearsing, designing and building sets from scratch, plus countless more details to fashion the show's overall look and feel.
Add to that the burden of marketing and enticing audiences to try something new.
The Smith Center hurdled all of these obstacles twice.
On top of presenting music, theater and dance performances from around the world, The Smith Center has launched two original works.
This includes co-producing a bold reimagining of "The Tempest" in 2014, which then gave the center's team confidence to produce the original musical "Idaho! The Comedy Musical" in 2016.
"Idaho" only happened because everyone involved proved fully invested in its success, says Myron Martin, president and CEO of The Smith Center.
"Creating an entirely new production is a tremendous undertaking," Martin says. "The response from audiences was deeply rewarding. This truly opens the door for potential new works in the future."
Making Magic with The Tempest
The Smith Center enjoyed its first taste of creating new works with its successful adaptation of "The Tempest."
Jumping on board during the play's planning phases, the center co-produced the production with Teller and Massachusetts' Tony-winning, Harvard-affiliated American Repertory Theatre.
The show transformed Shakespeare's classic as never before.
This production offered a rare mix of magic show, dance production and rock concert. It combined choreography from the artistic director of contemporary dance group Pilobolus, illusions like sleight-of-hand and levitation from Teller, and original music by Tom Waits and his wife Kathleen Brennan.
Upon the play's world premiere at a 500-seat tent pitched at The Smith Center's Symphony Park, it generated a strong audience response.
And when the play went on to run in Chicago, it earned multiple prestigious Joseph Jefferson Awards, including Best Play and Best Artistic Specialization.
This marked an important step in establishing The Smith Center as an incubator for new artistic works.
"'The Tempest' helped get us to a place where people were saying, 'We'd like you to do more of this. We like being the first audiences to see new work,'" Martin says.
A New Opportunity
Martin had this in mind when he learned that Las Vegas' own Keith Thompson — former music director of "Jersey Boys" at Paris Las Vegas — was composing songs for a new comedy musical "Idaho."
The production sounded promising, with a script by Buddy Sheffield, former head writer for iconic TV series "In Living Color."
So, Martin attended a reading for the show in New York.
"I laughed so hard I cried," he recalls. "I sat through the entire show and immediately went up to Keith and said, 'I don't know how, but somehow we have to produce the show at The Smith Center.'"
Dr. Keith Boman, vice chairman of the center's Board of Directors, made this possible with the Boman Fund for new works, created for the very purpose of launching original shows.
The Smith Center team proceeded with the massive undertaking of casting top performers from Los Angeles, New York and Las Vegas, as well as securing a director and choreographer.
With rehearsals conducted in Las Vegas, The Smith Center's executives and stage crew worked around the clock with the show's creative team to tweak, polish and refine the production for its debut.
The Smith Center also conducted ongoing marketing for the show, including designing the original promotional materials.
"It's a lot more work than talking to the agent who represents 'Wicked' and saying 'We'd like four weeks, please bring your buses and play it,'" Myron says.
'Idaho' Success is No Small Potatoes
The hard work paid off.
"Idaho" garnered many positive reviews, as well as widespread praise from audience members.
More new works might be in store for The Smith Center down the road, Martin says.
"Many people think this is a great way to create new works in Las Vegas and shine a light on artistic creations here," Martin says. "We're very happy audiences enjoyed 'Idaho' and we look forward to exploring future opportunities."
The Road to Reopening
Due to public health and safety guidelines during the pandemic, The Smith Center has cancelled or postponed over 450 performances totaling over $32 million in lost revenue, including Broadway shows, student education matinees and live performances of all types.
As a nonprofit, The Smith Center needs community support now more than ever.
To help open The Smith Center's doors again, click here to support our Road to Reopening Fund.