2/28/2020
Performances and Artists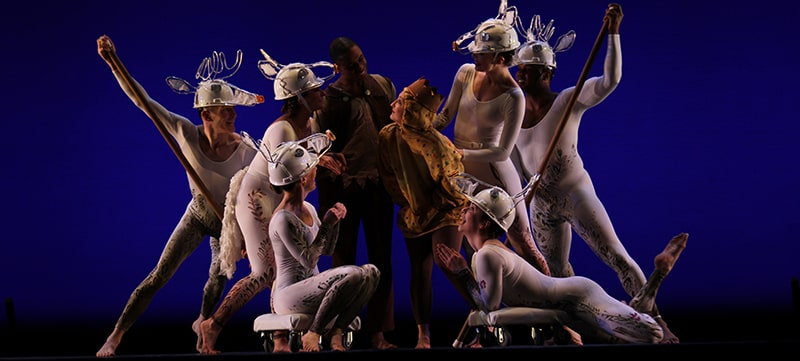 Family Show 'What Do You Do With an Idea?' Inspires All Ages with Whimsical Dance
When Bill Wade first read the children's book "What Do You Do With an Idea?" he finished it with tears in his eyes.
"I was like, 'oh my gosh, this is my story,'" remembers Wade, founder of Inlet Dance Theatre, a nationally acclaimed contemporary dance group. "This is me starting my dance company 20 years ago."
Wade represents just one of countless adults and children to identify with this story of a child developing an idea in the face of myriad obstacles.
The book by Kobi Yamada has resonated with so many, it became a New York Times bestseller, and Wade reports that many companies even incorporate it into professional development training.
But before the book reached this success, Wade knew he wanted to adapt it for the stage.
"The art of the story is in the book itself," he explains. "It's not just aspirational, it's attainable and actionable."
Inlet Dance Theatre strives to capture these elements with athletic choreography and vivid set pieces, in its original theater piece commissioned by Playhouse Square.
"We've created a show that surprises adults as well as children," Wade promises.
Thanks to donor support, The Smith Center will present this groundbreaking production as part of its student matinee series, bussing in Southern Nevada students to enjoy the show at no cost to schools.
The center will also present this 50-minute production for a public performance at 6 p.m. on April 22.
"We really wanted to bring magic back to live performances," Wade says.
Capturing the Eye
Wade worked closely with the book's author throughout the creation of the show.
This included painstakingly adapting Yamada's illustrations into hand-painted costumes and sets.
"Families walk into the theater, see the sets and gasp, 'it's the book,'" he says.
His team also crafted imaginative props such as a giant floating clock.
"Children feel like they're in the world with the characters," he says.
Ballet Meets Cirque du Soleil
The true heart of the show lies in its choreography, Wade says.
The performers portray the story through highly athletic movements and stunts, he says.
This includes contorting and lifting their bodies into a human see-saw.
"Our choreography is so athletic," Wade says. "Many people with no dance background have watched this show and made comments like, 'that's something I can't see anywhere else.'"
Wade draws much inspiration from his background of working with the founder of renowned dance company Pilobolus, which mixes acrobatics, theater and dance.
"Audiences will definitely see that influence in our show," Wade says.
One patron even described the choreography "like ballet and Cirque du Soleil had a child," Wade remembers. "It gives a completely different lens to the book."
Please note: the status of this performance has changed. Please visit our information page for COVID-19 related performance updates HERE.