10/7/2019
Performances and Artists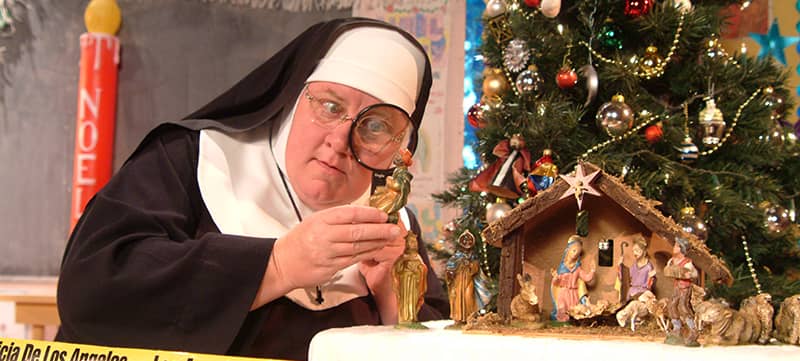 Big Laughs and Audience Participation
Emmy-winning actress Nonie Newton-Riley can describe her comedy show "Sister's Christmas Catechism" with just a few words: "the audience is the costar."
While this one-woman show offers a loose script with Riley as a sardonic nun teaching her unruly Catholic school class (the audience), the production remains rooted in audience participation and Riley's dizzyingly sharp improvisation.
"People might think 'oh, it's a one-woman show — snore,' but every one of these shows is different," vows Newton-Riley, who has performed the role over 20 years. "I respond to what's given (from the audience), and that's the fun."
That's also why she continues to perform the show nationwide, including at The Smith Center December 6-8.
"If I was doing a straight scripted show, then after 20 years I'd be ready for the loony bin," she says.
Audiences in the Spotlight
With the show focused on Newton-Riley teaching her class the Christmas story, audience members actively participate throughout the performance's 75 minutes.
This includes Newton-Riley, clad in her characteristic nun garb, diving into the audience to dispense one-liners on people's inappropriate attire, their lateness and excessive talking.
"We leave the house lights up, because if I can't see you, I can't pick on you," she warns.
She also pulls people on stage to participate in a living nativity, pop quizzes, singing carols, silly prize giveaways and even "a little crime solving," she says.
"I think everyone is an actor at heart," she says. "I don't put myself on a pedestal over any of (the audience members on stage)."
Trained in Comedy — and Catholicism
Newton-Riley's background uniquely prepared her for a live comedy show about Catholicism.
Before her current role, she honed her craft with renowned comedy troupe Second City, where she even performed with the group's veterans like Alan Arkin.
"Second City was the best training ground for young actors," she recalls of acting out audience suggestions on the fly. "You do eight shows a week and you deal with drunks, you deal with crazy people. You deal with the general public."
She learned the key to sidesplitting improvisation, she adds: listening.
"People will just hand themselves to you on a platter, if you're paying attention," she says.
She also garnered an Emmy for writing and starring in a PBS special, and served as the only female writer on "Candid Camera" in the 1990s.
On top this, several members of her family became priests and a nun. Several more were kicked out of seminary.
"We have the whole spectrum — the good, the bad and the ugly," she teases. "In order to play a sister, you really have to have grown up in the culture."
Let Loose and Laugh
Those who attend her show can expect to relax, laugh and get in the holiday spirit, Newton-Riley promises.
"It's about having fun," she says. "You can leave the politics and the world behind for a couple hours and come out and laugh."
"Sister's Christmas Catechism" ran in Troesh Studio Theater during the 2019-2020 season.