10/30/2019
Supporting the Arts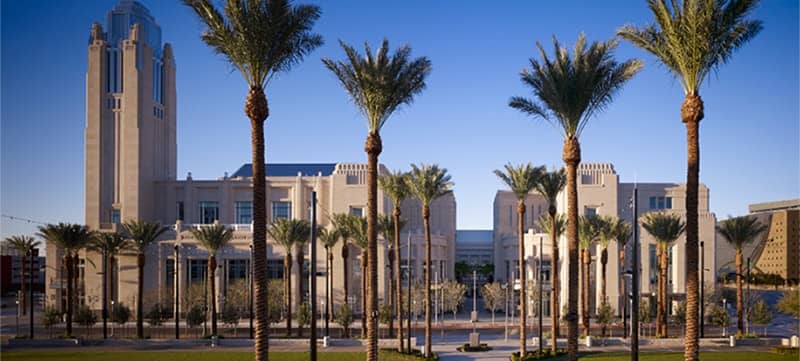 AmazonSmile Donates Percentage of Online Purchases
The holiday season is here, and many prefer shopping for gifts online, instead of fighting traffic and lines at the mall.
Making online purchases can even help support nonprofits like The Smith Center, thanks to AmazonSmile.
"This offers a great option for those who want to take part in the season of giving," says Carol Hollatz, director of Annual Fund at The Smith Center. "Just by shopping online, community members can help support The Smith Center's efforts to make the arts accessible for all Southern Nevadans."
Operated by Amazon, the AmazonSmile website offers the exact same products, prices and shopping features as Amazon.com — with one important difference.
When people shop on AmazonSmile, the AmazonSmile Foundation donates 0.5 percent of the cost from their eligible purchases to the nonprofit organization of their choice.
This can make a significant impact. In 2018, Amazon announced donating over $100 million to charitable organizations through the AmazonSmile program.
"It's a simple and easy way for people to support a nonprofit that they feel serves an important role," Hollatz says. "And it doesn't cost anything to participate, outside of people's routine online shopping."
Easy to Use
Using AmazonSmile to support a nonprofit is easy.
Shoppers can simply visit smile.amazon.com, and select a nonprofit organization to receive donations from their online purchases.
Then they can carry on with shopping on the AmazonSmile website, instead of Amazon.com.
Every eligible purchase will result in a donation from the Amazon Foundation to their selected nonprofit.
"Shoppers don't have to worry about changing anything. They can use their same Amazon account on AmazonSmile," Hollatz says. "All of their other settings will stay the same, including their shopping cart and gift registries."
Supporting Southern Nevada's Heart of the Arts
As a nonprofit organization, The Smith Center relies on philanthropic support to fund 25 percent of its costs to serve as Southern Nevada's Heart of the Arts.
Contributions to The Smith Center help support its education and outreach initiatives that have impacted over 700,000 students and teachers, most at no cost to schools. These include presenting student matinees in the center's theaters, providing workshops and master classes for students with top performers, helping elementary schools create sustainable theater programs and more.
Philanthropic support also helps The Smith Center present hundreds of music, theater and dance shows throughout the year at accessible prices. Contributions even help maintain the center's campus.
"Every size of contribution makes a difference," Hollatz says. "As people dive into their holiday shopping, we encourage them to keep AmazonSmile and The Smith Center in mind."
Getting Started
To get started with AmazonSmile, visit: smile.amazon.com.