3/7/2019
Education and Outreach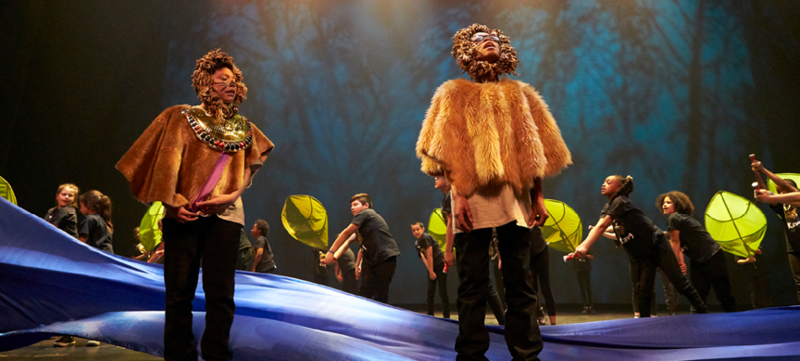 The Smith Center Brings National Disney Program to Under-Resourced Schools
When the curtain opened on "The Lion King" at Richard J. Rundle Elementary in February, teacher Kaylene Henderson admits the Las Vegas educators could barely recognize their own students performing complex choreography, belting musical numbers and delivering memorized lines with gusto. "We have seen shy students, students with learning disabilities and students who haven't found 'their thing' shine on stage," Henderson says. Beyond that, she adds, students who didn't know each other before had found friendships and collaborated together. "Students learned to work together and help each other out with lines, when to go on, and with singing," she marvels.
This all resulted from Rundle Elementary participating this past school year in The Smith Center's Disney Musicals in Schools program, helping under-resourced elementary schools create their own sustainable theater programs and put on their inaugural production of a Disney KIDS musical. One of just a handful of performing arts venues nationwide to offer this program as a regional partner of Disney Theatrical Group, The Smith Center has provided this program for over 35 Southern Nevada schools at no cost to schools, thanks to support from the Elaine P. Wynn and Family Foundation.
Five Southern Nevada schools participated in the program this past school year, plus a school in Kingman, Arizona, as a result of Disney tapping The Smith Center to pilot a program expansion into rural areas. The program culminated with each school performing a musical number on stage at The Smith Center on March 4. These performances marked a true achievement after a packed 17-week process, during which professional teaching artists from The Smith Center guided each school's teachers with training students in singing, dancing and acting.
Finding Success
The transformation that occurred within that time was beyond anything Rundle Elementary had imagined, Henderson says. Students struggling with parts came in early for extra work. Introverted students suddenly found newfound confidence performing in front of a crowd. Students from across all backgrounds banded together with ideas and support of each other's roles. Whether these students pursue careers in the performing arts or not, Henderson deems, the lessons from this experience will prove vital. "They truly have come to care for, have concern for, and root their cast on. What more can we ask of young friends in a world where the jobs they may have haven't been invented yet?" Henderson remarks. "Critical thinking and getting along with others are key components to possess for success."
Her school's experience even extended beyond the stage. As "The Lion King" introduced African culture to students, teachers schoolwide initiated projects and research celebrating African countries, including hosting an African Multicultural Day. The Smith Center supported these efforts by providing an in-school performance featuring African drummers. "Our motto at Rundle Elementary is 'we are changing the world,' and this opportunity is just one more way we can change the world," Henderson says.
Bringing Communities Together
As seen every year, the Disney Musicals in Schools program brought entire communities together. Doris Hancock Elementary teacher Rebecca Anderson admits that during her school's initial meeting on the program, she thought pulling off a full production seemed "perfectly impossible." But The Smith Center's team guided the school every step of the way, she notes, from helping with its program application to the teaching artists supporting every detail of the production. Parents adjusted their schedules to volunteer and offer support. Smith Center teaching artist Kathy Ortiz even helped provide donated costumes and set pieces through her own nonprofit, Parts for the Arts Charitable Association.
Watching Students Grow
It was all worth it, Anderson says, with an impressive 55 children successfully performing in "The Jungle Book KIDS." Ten students also served on the stage crew that handled all lighting, technology and props for the show, showcasing the full spectrum of theater education the program offers. "I have seen the growth in these children in so many ways this year," Anderson says. "Theater teaches them so much more than song and dance. It creates critical thinkers whose contributions have lasting impacts on our communities." The Disney Musicals in Schools program demonstrates how essential the arts can be for students' success, she adds. "How fortunate we are to be a part of the magic that has always been the vision of the Disney organization," she says. "We are so lucky to have The Smith Center to make that dream a reality."
Learn More
To learn more about education and outreach efforts at The Smith Center, click here.