1/6/2020
Performances and Artists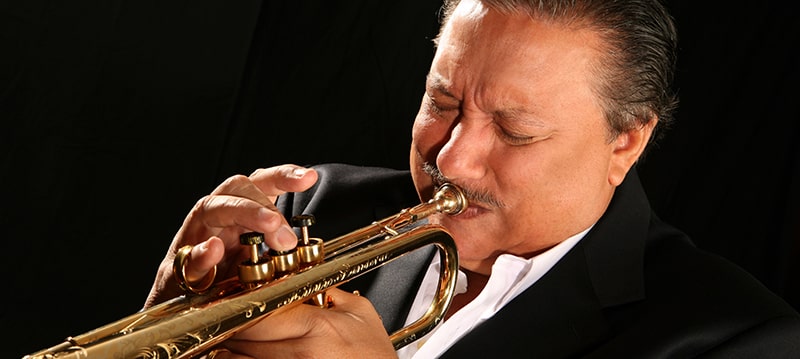 Southern Nevada audiences can soon experience true masters of musical instruments up close.
This season sees the return of several world-renowned artists at Myron's Cabaret Jazz, the 240-seat venue at The Smith Center hailed as a leading space for live performances.
And each of these performers strive to reimagine classical music in groundbreaking ways.
The upcoming roster includes acclaimed violinist Lucia Micarelli, multiplatinum pianist Jim Brickman, 4-time Grammy-winning trumpeter Arturo Sandoval, and chart-topping vocalist Paul Byrom.
Read below how these artists deliver captivating evenings for all music lovers.
Acclaimed Violinist Lucia Micarelli – 7 p.m. on March 6 and 7, 2020
A Julliard-trained prodigy whose career includes her own PBS special and touring as concertmaster with the Trans-Siberian Orchestra, Micarelli serves up a wildly diverse repertoire that will amaze classical fans while providing a fun introduction for newcomers to string music.
Her show will feature tunes spanning fiery concertos, haunting folk songs and beloved pop melodies — even potentially showcasing her glittering vocals.
"Whether it's classical or jazz or folk tunes or me singing, I'm really just trying to compile music I feel very connected to," she says.
Multiplatinum Pianist Jim Brickman – 7 p.m. on February 14 / 3 p.m. and 7 p.m. on February 15, 2020
Brickman deserves credit for bringing instrumental piano music to mainstream audiences. A gifted songwriter, his gentle melodies such as "Angel Eyes" and "If You Believe" have sold millions of albums worldwide.
Brickman will perform his numerous fan favorites, while also sharing stories of his life and career.
"When I first started performing, I didn't have an act. I thought, 'I guess I'll just get on stage and talk and play, and just say what comes to my mind,'" Brickman says. "And what evolved was a conversation (with the audience), rather than just performing at people."
Trumpet Legend Arturo Sandoval – January 22-23, 2021
*This performance was rescheduled to its January 2021 date because of the COVID-19 pandemic.
Presidential Medal of Freedom recipient Arturo Sandoval draws from a rich background to inspire his stylings.
A classically trained virtuoso, the Cuban native was the protégé of jazz icon Dizzy Gillespie, the first artist to merge Latin influences with American jazz.
All of this combines when Sandoval takes the stage to perform a bold mix of classical, jazz, Latin and more, with masterful precision and fiery delivery.
"I want to tell stories (through music), and if the audience understands what I'm saying, that's the perfect connection," Sandoval says.
Chart-Topping Vocalist Paul Byrom – 7 p.m. on March 14, 2020
No one can doubt when Paul Byrom takes the spotlight that his velvety vocals are an impressive instrument.
With two No. 1 World Billboard albums, the Grammy nominee performs the lustrous, traditional music of his native Ireland across the globe.
His upcoming show will deliver this with charming tales of his home country, as well as songs spanning Broadway showtunes, classic standards and melodies hailing from the matinee era of the 1930s.
"The important thing is to keep my performances lighthearted," he says.