9/1/2018
Broadway Las Vegas / Performances and Artists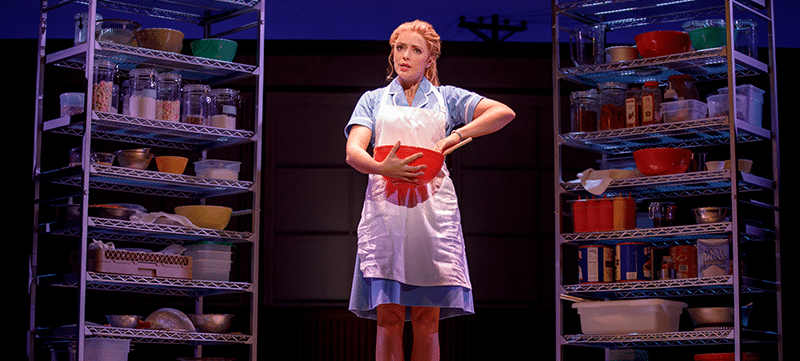 When writer Jessie Nelson was first approached about transforming the hit film "Waitress" into a Broadway musical she agreed on the spot.
"I just thought (the film director) Adrienne Shelly had created such a gem," Nelson remembers. "My daughter was 12 when the film opened and she watched it at every slumber party, so I'd already watched it 20 times."
Wholly new to Broadway, Nelson had only previously written Hollywood screenplays, including for acclaimed films like "Corrina, Corrina" starring Whoopi Goldberg, and "Stepmom" starring Julia Roberts.
That's exactly why Diane Paulus, director of the "Waitress" Broadway show, thought Nelson would be ideal to pen the theater version of this story about a waitress and pie maker dreaming her way to a better life.
"Diane wanted a more contemporary sensibility," Nelson explains. "She wanted to bring people aboard who hadn't worked in the Broadway community."
That's also why the director tapped pop superstar Sara Bareilles, a six-time Grammy nominee, to compose the show's music.
"Sara is known for these extraordinary ballads like 'Gravity' and then also the wit and sass of her lyrics, like 'Love Song,'" Nelson says. "You can tell from Sara's work the kind of intelligence and sensitivity she brings to the writing."
The First All-Female Creative Team on Broadway
A trusting collaboration was instant and "egoless" between the creative team of Nelson, Bareilles, Paulus and choreographer Lorin Latarro, Nelson says.
"It was a lot of 2 a.m. emails, 'What if we had a song about Jenna's fear of being seen?'" she recalls. "Some nights I'd stay up and write a scene, then I'd give it to Sara and it would become a song. It was seamless."
A lack of Broadway experience actually made the process easier, Nelson adds.
"That gave Sara and I freedom, because we didn't know all the rules," she says. "We were doing a lot of, 'What if, what if?'"
While the foursome didn't realize it right away, they comprised the first all-female creative team in Broadway history.
"That wasn't something we set out to do. We were all chosen not because of our gender, but because there was a great creative synergy to us," Nelson notes. "It was a beautiful thing to realize that it was the first time that had happened in history."
From Silver Screen to the Big White Way
To adapt "Waitress" for Broadway, Nelson mined the film for moments she felt were powerful enough to transform into live musical numbers.
"A song in a musical is like a close-up in a movie, where you move more deeply into a character," she notes. "I was learning that language of theater and musicals."
Fans of the movie won't be disappointed: Nelson strived to stay faithful to the original storyline.
There are some differences, though, as Nelson chose to "back up" the story to portray new events that would provide more build-up for the main character's transformative decisions.
"I took the same framework (of the film) and started it a little earlier," she explains.
An Empowering Message
Nelson has seen audiences feel empowered by many different aspects of the musical.
"I'll never forget when Hillary Clinton came to see the show. She said, 'This show is about the power of a small business loan, and how opening a pie shop changed this woman's life,'" Nelson says with a laugh. "I always hope people leave the show with more hope in their lives."
"Waitress" the Broadway musical was a part of the 2018-2019 Broadway Las Vegas season.
Photo Credit: Desi Oakley as Jenna in the National Tour of WAITRESS Credit Joan Marcus