8/7/2019
Community Impact / Education and Outreach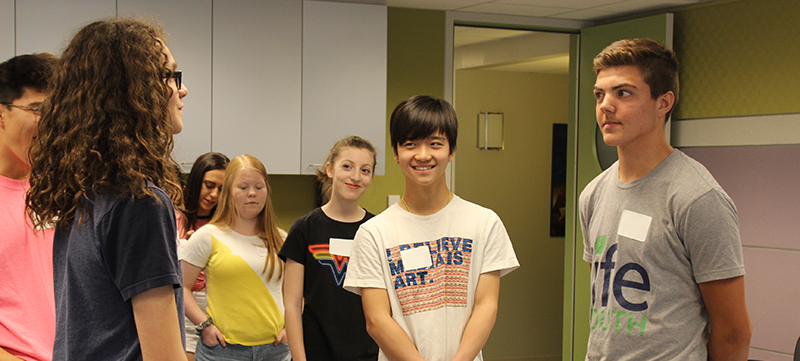 Ever since classical concerts first captivated James Wang as a child, he has sought ways to involve the arts in his life.
"The performing arts have always had an indescribable impact on me," explains Wang, now a 15-year-old violinist and a student at West Career and Technical Academy. "I think there is no limit to the performing arts, and that allows people to truly express themselves."
This passion drove Wang to participate in The Smith Center's Student Ambassador program, engaging younger generations with special performing-arts experiences.
The Smith Center seemed a natural fit to explore his love for the arts, Wang says.
"The Smith Center has been one of my favorite places to visit since I was first acquainted with it, and I have always seen it as representing the best in performing arts," he says. "It means a great deal to me to have been afforded the opportunity to have a deeper connection to The Smith Center."
Wang isn't alone.
Many teenagers and young adults across Southern Nevada share a strong interest in exploring new ways to engage with The Smith Center and the performing arts.
Fortunately, The Smith Center offers popular programs and initiatives that provide just that.
Read about just a few of these below.
Student Ambassador Program
Aimed at nurturing love for the arts in younger generations, The Smith Center's Student Ambassador program offers valuable experiences for teenagers to learn more about the performance world and explore potential career paths.
Participants help represent the center to other youths, including through social media, school clubs and more.
They also enjoy special experiences with The Smith Center, such as backstage tours, workshops with top-tier artists, assisting with education and outreach initiatives, and receiving free tickets to shows that are funded through donor support.
Wang's favorite experiences with the program include participating in an improvisation workshop and receiving free tickets to a classical concert featuring famous violinist Joshua Bell.
"Through participating in the program, I have fully realized the impact and potential the arts can have on people," he says.
He feels confident this program has groomed him for any career path he chooses.
"While I have learned about so many different things in regards to the performing arts, I have also learned how to more effectively communicate with people, and appreciate the opportunities I'm given," he says.
For more information, reach out to Senior Program Manager Melanie Jupp at [email protected]
Volunteer at The Smith Center
As a nonprofit, The Smith Center offers many opportunities for young adults to support its operations by volunteering, and during a wide range of hours, including evening and weekends.
Volunteers fill many roles, including ushers at shows and special events, tour docents, ambassadors at community events and more.
For Las Vegas resident Rayanne Ballaro, volunteering at The Smith Center offered an opportunity for the theater-lover in her 20s to immerse herself in the performing arts.
"It's a really fun experience, and you get to meet interesting people from all sorts of backgrounds," she says.
Ballaro's volunteering even led to a fulltime position with the center's marketing department.
"(Volunteering) helped me understand The Smith Center's brand and how to be an ambassador," she says.
Fanfare! Affinity Group for Arts Lovers
Eager to experience Southern Nevada's arts and culture scene, and to network with other arts enthusiasts?
Then you might find a great fit with Fanfare!, The Smith Center's affinity group for emerging leaders advocating for the arts.
Open to arts lovers 21 and over, Fanfare! membership offers special opportunities to experience The Smith Center and other cultural highlights of Southern Nevada.
These include special discounts to select shows, private receptions at The Smith Center, and invitations to exclusive arts-and-culture experiences in the community.
"We want to give Fanfare! members a fun experience, on top of the opportunity to build a relationship with The Smith Center," says Travis Turner, Fanfare! co-chair.
Visit www.thesmithcenter.com/support-us/fanfare, or call 702-749-2358, to join and learn more.
Season Tickets
Young adults eager to experience the best of Broadway productions can enjoy a year's worth of entertainment, and at the season's lowest prices.
A season subscription to The Smith Center's Broadway Las Vegas Series guarantees seats to Tony-winning productions nearly every month of the year.
Not only does this provide a memorable night out, but it also guarantees seats to the most popular and acclaimed shows on Broadway, such as "Hamilton," "Rent" and "The Book of Mormon." A season subscription even includes special benefits like 20 percent savings on non-Broadway shows, and the opportunity to exchange and upgrade tickets to Broadway shows before tickets go on sale to the public.