4/22/2015
Discovering The Smith Center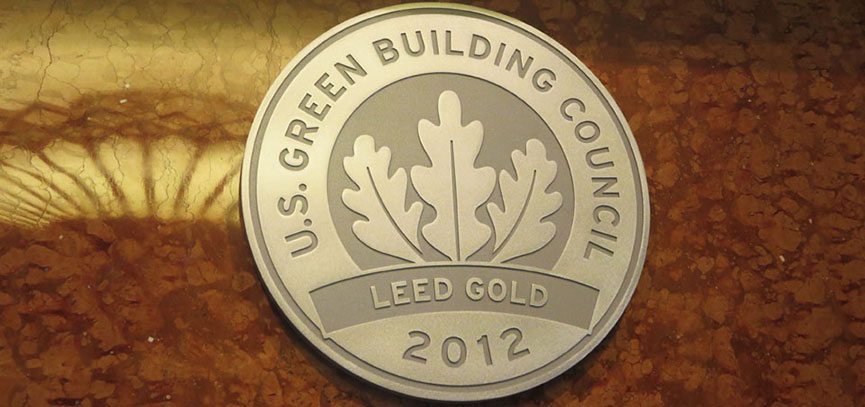 With the celebration of Earth Day, many Southern Nevadans are focused on the environment. The Smith Center itself was planned, designed and constructed with the goal of being as environmentally friendly and sustainable as possible. These efforts have garnered a LEED Gold certification in building design and construction, a prestigious architectural distinction.
LEED – which stands for Leadership in Energy & Environmental Design – is administered by the U.S. Green Building Council in Washington, D.C.  A coalition of thousands of member organizations and volunteers, the council recognizes best-in-class environment-friendly architectural practices
To receive LEED certification, building projects such as The Smith Center must meet prerequisites and earn points to achieve levels of certification, such as silver and gold.
According to Robert Gatewood, chief engineer, being environmentally conscious is a vital aspect of The Smith Center. We spoke to Gatewood about some of the specific ways in which the campus was designed and constructed and is maintained and operated that contribute to promoting renewable and clean energy.
"Sustainability is important, as is being a member of the community that doesn't consume too much energy," Gatewood said. "We're reducing our carbon footprint."
The Smith Center is the largest performing arts facility of its size to have gained a gold rating. This was achieved in collaboration with David M. Schwarz Architects, Inc., a principal design partner.
Advanced machinery deep inside The Smith Center helps reduce its carbon footprint, such as these large water pumps.
When The Smith Center was built, 75 percent of construction waste was diverted from landfills and 10 percent post- and pre-consumer recycled content was used for building materials. Furthermore, 10 percent of those materials came from the surrounding region and 4.9 percent were locally harvested or manufactured. This helped save on shipping costs and promoted Las Vegas' local economy.
As a sizable facility to say the least, minimizing energy use was a major concern in planning The Smith Center. With lighting being a top draw of electricity, natural sunlight is used whenever possible. High-efficiency artificial illumination fixtures were installed, saving 12 percent in energy use. Heating, ventilation and air conditioning systems are high-efficiency as well, saving 24 percent overall site-wide in electricity expenditures. Even further, 35 percent of the center's electricity is purchased from renewable source
As Las Vegas is situated in one of the driest parts of the nation, close attention is paid to water consumption at The Smith Center. Restrooms are outfitted with ultra-low flush and low-flow fixtures, reducing use by 35 percent. Native plant landscaping and water-efficient irrigation techniques outside in Symphony Park save 50 percent in water costs.
Even everyday tasks at The Smith Center are as green as possible. Housekeeping crews use the most environmentally friendly cleaning products available. In addition, a campus-wide recycling program is in place.
LEED is continually on Gatewood's mind – as it is for the rest of The Smith Center's facilities crew. They are currently pursuing further accreditation.
"We're currently working towards achieving LEED certification in building operations and maintenance," he said.
One of the major drives in further certification is reducing the use of older compact fluorescent bulbs, which contain traces of mercury.
"We're moving to LEDs (light-emitting diodes) in lighting fixtures," he added.
From improving lighting to decreasing water use, Smith Center's commitment to sustainability will last for many Earth Days to come.