4/12/2017
Broadway Las Vegas / Performances and Artists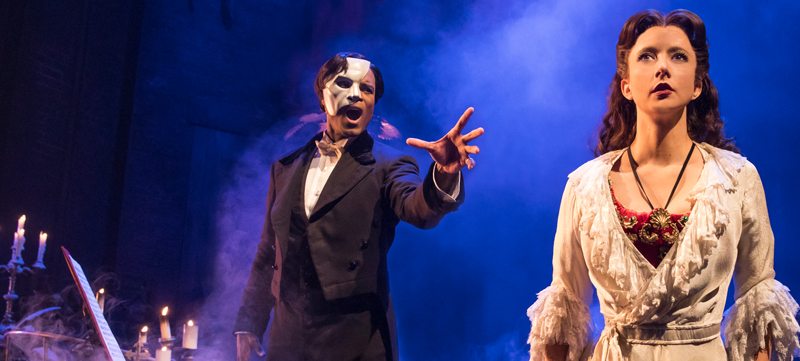 Every time Jamie Johns finishes conducting a show of "The Phantom of the Opera" he turns and sees a huge crowd peering into the orchestra pit. Especially during performances on a holiday like Mothers Day, when families come out together.
"After we play the exit music, largely the audiences leave the auditorium, but invariably 100 people hang out for the entire play-out," says Johns, maestro for the show's national tour. "They have huge smiles on their faces and they're staring into the pit, wanting to see how it's done and ask us questions."
He isn't surprised.
The music of "Phantom" has driven the show's popularity for nearly 30 years, he believes.
"The music is positively operatic in nature, and like an opera, the music takes precedence," he says. "The story is important and the acting comes together to tell the story, but it's the lushness of the score that's the draw."
A Full-Bodied Sound
The show's score by Andrew Lloyd Webber has actually been through several permutations, he says.
He describes the current tour's version in one word: "cinematic."
"It's a sweeping, full-bodied approach to the scoring," he says. "It's a pretty large-scale sound. We actually travel with 75 to 80 speakers of our own, in addition to the house speakers, to create this incredible surround sound – the kind of sound that no one will be able to fall asleep."
The current score also features heavy brass and string performances that add to the rich sound, he says.
Bringing the show's music together is no small feat. In addition to traveling with 40 cast members and six musicians, the show performs with an additional 10 local musicians in each city.
They have just six hours to rehearse with these new musicians before opening night, Johns adds.
"It's such a delightful process," he says. "Every time you go to new cities, you have new blood, new musicians bringing their own thoughts and ideas to how this music can be played."
A Stand-Alone Score
Webber's score for "Phantom" remains beloved for many reasons, Johns says.
He personally enjoys how certain melodies reoccur throughout the show, helping tie the significance of different scenes together.
"It's a wonderful complement with what's happening on stage," he says.
Performing in the orchestra pit never ceases to invigorate Johns.
"It does enliven my soul," he says.
He believes audiences connect with the show through its music, he explains. He hears it in their reactions throughout each performance, and most of all when the actors take their bows.
"The applause that happens when the phantom takes a bow is never short of astounding to me," he says. "I've done professional theater for 20 years, and I've never heard something from an audience like that."
"The Phantom of the Opera" was a part of the 2016-2017 Broadway Las Vegas series.
Photo Credit: THE PHANTOM OF THE OPERA - Derrick Davis and Katie Travis - photo Matthew Murphy