1/6/2020
Performances and Artists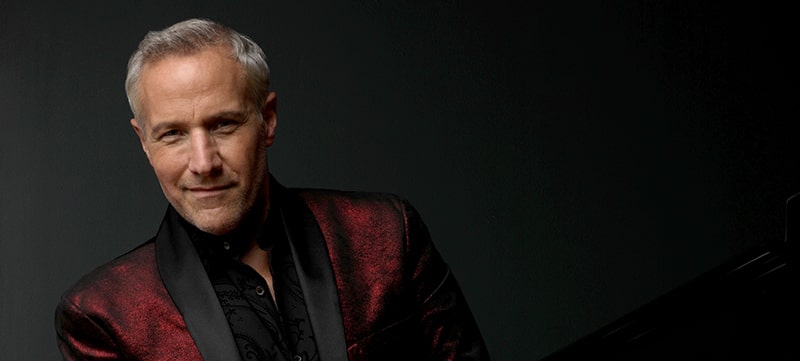 Two-Time Grammy Nominee Jim Brickman to Perform Greatest Hits
Multiplatinum pianist Jim Brickman still remembers driving his piano teacher crazy as a boy.
"My first teacher didn't appreciate the fact that I didn't like playing basic scales and beginner songs. I always wanted to play my own songs," Brickman says, recalling how he begged his parents for lessons after falling in love with his neighbor's piano.
Clearly, his teacher lacked some vision.
Now in his 25th year as a songwriter and recording artist, Brickman has earned two Grammy nominations and sold millions of albums worldwide with his original music.
He has also collaborated with megastars such as Martina McBride and Johnny Mathis — all in the process of bringing his gentle yet catchy instrumental music to mainstream audiences.
"My music evokes emotions," Brickman explains. "Because there are no words, the listener can hear whatever they are feeling."
His many Southern Nevada fans will experience this up close on February 15, when Brickman returns to Myron's Cabaret Jazz for two concerts showcasing his most beloved melodies.
"I hope the audience can relax and leave the trials and tribulations of the world outside the theater," he says. "I always tell them, 'let the music take you wherever you want to go.'"
Learning to Create Feelings
To reach his groundbreaking success, Brickman experienced a musical education unlike most artists.
Before becoming a solo performer, he wrote commercial jingles. This required creating tunes spanning country, rock, big band, classical and beyond.
"I had to be proficient in every musical genre," Brickman remembers. "Because of this, I appreciate and can write in all styles."
Most important, he learned to "create feelings" with melody, he adds, a talent reflected in the soothing hooks of his original songs.
He believes this emotional undertone gives his music its broad appeal.
That's also likely why people play his music everywhere, he notes, including both weddings and funerals.
"My favorite story is the man who told me he listens to my music while he's out on the range riding on his John Deere tractor," Brickman says. "Really, I never know how the music will affect people. I'm just glad they can relate."
A Concert of Hits and Romance
For those who attend his upcoming concerts, Brickman promises a strong focus on romantic melodies to fit the Valentine's Day weekend.
He will also play his greatest hits, he adds, while sharing delightful stories of his life and career.
"If you are lucky enough to have hits, you should play them," he says.
And there will likely be more hits to come, as Brickman embraces every recording and performance opportunity.
"Because of the wonderful listeners, I'm having the time of my life doing exactly what I love doing," he says.
Jim Brickman performed in February of 2020 in Myron's Cabaret Jazz.