7/30/2018
Performances and Artists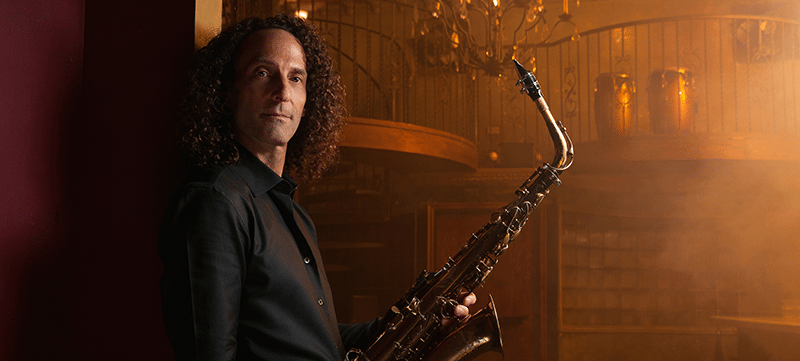 Kenny G Brings Las Vegas a Night of Jazz and Epic Musicianship
There probably isn't an instrumental music fan alive today who wouldn't recognize the soaring sax stylings and perfectly coiffed hair of Kenny G, the Grammy-winning saxophonist hailed as one of the best-selling instrumental musicians of all time.
Excited to make his debut at The Smith Center on September 29, Kenny G shared some surprising personal insights and stories with us.
Why did you choose the saxophone as an instrument?
I first saw the saxophone on television when I was a kid – someone was playing a saxophone solo on the Ed Sullivan Show, and I thought that looked pretty cool. I was 10 years old.
It must have been something about how he played the solo. When you watch someone play a certain instrument and you feel like it's talking to you, or it has a voice of its own… I thought, 'Wow, if I could do that, it would be so cool.' And I started to play.
Your name is practically synonymous with smooth jazz – how do you feel about that?
There was no smooth-jazz genre when I started. I just played my saxophone the way I wanted to play it. I wrote songs the way I wanted to write them, and I performed the way I wanted to perform, and it came out and the radio decided that they loved that sound I had.
They called it smooth jazz, not me. I'm just doing my own thing.
How does it feel to have essentially created a new musical genre?
Pretty cool. I was definitely a big part of that in the beginning, but I'm not entirely responsible. I'm not saying I'm the originator. My style comes from listening to other saxophone players like Grover Washington Jr. and his style, and jazz greats like Charlie Parker and Sonny Rollins.
When you hear my sound, it's taking and digesting all the things I love. A fusion of that came out of me, and people seem to like it.
Not many instrumental musicians have achieved your success. What's your key to this?
I think partially it's intangible. How come Mick Jagger is so popular still? I'm not saying I'm as popular as Mick Jagger, but there's something about the way he sings and just something about him.
The part I can explain is that it's a lot of hard work and constantly touring. I'm out there playing every year, 50 to 70 shows. I practice every day, three hours a day, and dedicate a lot of my life to being the best musician I can be.
Is it true you still play your saxophone from high school? Is there a reason for that?
Yes, my soprano saxophone is my high school saxophone. All of the songs I've ever recorded and every show I've ever played have been on this saxophone. It stays with me and it's with me now. I already practiced it for three hours today.
I'm that kind of a guy. If I like something, I don't need to find something new or experiment to find something better. Better is such a subjective word anyway when it comes to music. I know there's other saxophones out there, but none will be better for me.
You performed at the Electric Daisy Carnival in Las Vegas this year! How did that come about, and what was that like?
It was surprising. A DJ (Ookay) had a famous song that has a saxophone part in it, and he wanted me to play it. He reached out to me and I thought, 'That sounds like a cool thing.' It was pretty easy, it wasn't like it was a tough sax part to play.
I enjoyed it – I brought my 20-year-old son and he enjoyed himself. He was in his element. We were helicoptered in and helicoptered out! It was pretty fancy.
What can audiences expect at your upcoming show here at The Smith Center?
When we play, it's pretty special. All of the guys in my band are super great musicians, they all do great solos. It's not just a night of smooth sax. I actually hate that word – I don't think of myself as smooth. I play my take on jazz. I'm a jazz musician and I try to rip it on that horn as much as I can every night.
I think people will be surprised if they haven't seen us play, how much energy there is and how much musicianship. I think that's all you really need to do for an audience. Just show people you're really great at playing your instrument and your songs.
Kenny G debuted at The Smith Center as part of the 2018-2019 season.