4/29/2019
Education and Outreach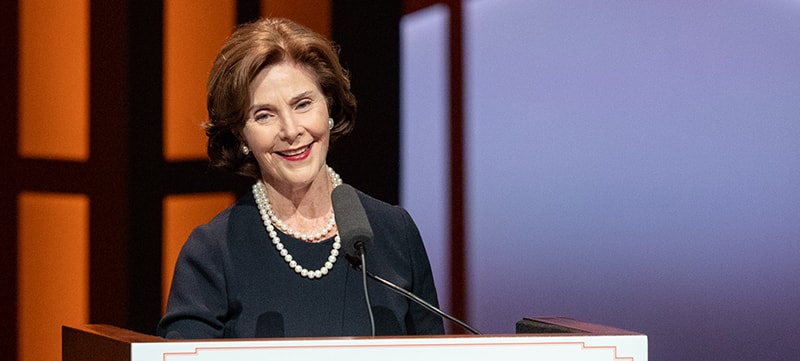 Top 20 CCSD Teachers Awarded for Life-Changing Initiatives
The Smith Center's fourth-annual Heart of Education Awards saw entertainment and historic icons alike on stage.
Beyond performances by comedy legend George Wallace and the show's emcee, stage-and-screen star Erich Bergen of the CBS show "Madam Secretary," the awards event celebrating outstanding Clark County School District (CCSD) teachers offered a stirring address by surprise keynote speaker Laura Bush, former first lady of the United States.
"I know that if every child is educated, our country and our world will be more stable and prosperous," Bush said to the over 700 teachers filling The Smith Center's Reynold's Hall in late April. "Thanks to everyone here tonight, thank you for honoring the very people who are making sure children in Clark County are educated."
The true stars of the night proved to be the 20 recipients of Heart of Education Awards, who shared inspiring and astonishing stories of creating life-changing opportunities for their students - including helping first-generation college students get into Yale, and raising hundreds of thousands of dollars to provide new technology in the classroom.
These stories reflect the very aim of the Heart of Education Awards, created by The Smith Center in 2015. Powered by The Rogers Foundation, the awards program recognizes outstanding CCSD educators who go above and beyond to impact their schools and students.
This year's event celebrated a total 721 finalists in a night of celebration and entertainment, with the 20 award winners each receiving a medallion, a $5,000 cash gift, and a $1,000 donation to their schools.
"Educators sacrifice for their students in ways that most of us can't even imagine," said Myron Martin, president and CEO of The Smith Center. "This event allows the community to give these incredible teachers the spotlight they deserve."
Worldly Wisdom from a Former First Lady
Emphasizing the impact of education in children's lives, Bush spoke in her address of traveling extensively during the presidency of her husband, George W. Bush, during which she witnessed children facing hardship around the globe.
A former librarian and educator herself, she added that she experienced many similar stories in our own country. She touted how educators face the responsibility of shaping and improving children's lives.
"Young people need us in their lives. They need to know that they're valued, that someone believes in them, and that their success matters," Bush said. "Their problems are great, but greater still is our love for our children, and the dedication of many Americans, like all of you gathered here tonight, to help young people succeed."
Stunning Success Stories
With the 20 winners recognized on stage, each highlighted programs and initiatives they had spearheaded that garnered inspiring results.
Just a few of these impressive winners included Richard Knoeppel from Advanced Technologies Academy,
who raised $200,000 in grant funds to provide cutting-edge technologies for his architecture students.
Ramiro Benavides created a new student mariachi program at Mario C. and JoAnne Monaco Middle School, with participation rocketing from less than 100 to now over 500 students.
"We teach students to discipline themselves, and they use that in other core subjects," Benavides said.
Heather Rampton of K. O. Knudson Middle School created a student film festival at her school, and Gayle Miller from Global Community High School dedicated 200 hours in personal tutoring of ESL students from foreign countries.
Melanie Wilkerson discussed her AVID program (Advancement Via Individual Determination) at Spring Valley High School, which helps students become the first in their families to go to college, including touring college campuses and developing writing and problem-solving skills.
"It's the best job in the world, helping kids go to college," Wilkerson said.
Teachers Changing Lives
The night also featured appearances by Kim and Dana Wagner from KSNV-NBC, as well as CCSD Superintendent Jesus Jara, who praised the finalists' hard work.
The Heart of Education Awards is powered by nonprofit The Rogers Foundation, which works to transform the lives of children by supporting institutions, programs, initiatives and educators.
"Teacher is simply not a big enough word to contain what you do," said Beverly Rogers, chair of The Rogers Foundation board, as she addressed the finalists during the event. "I've decided to offer you a different title: rock stars."