7/8/2019
Performances and Artists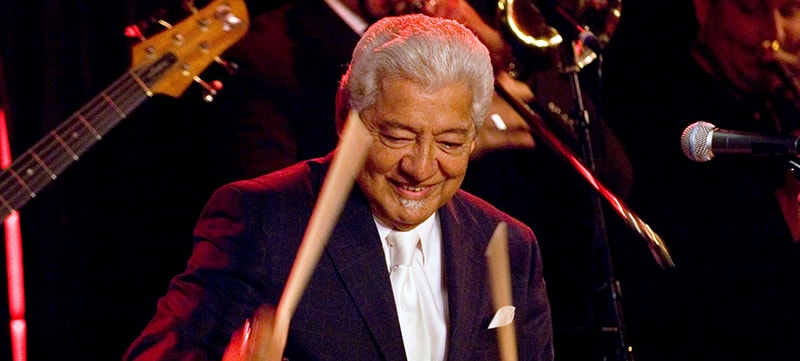 Percussion Icon Pete Escovedo to Perform with Latin-Jazz Orchestra
Few people can say they have been personally mentored by Latin-music icon Tito Puente.
But when Pete Escovedo met Puente as an ambitious 18 year old, Puente saw a spark in the teenager that he decided to nurture.
"I looked up to him as the greatest timbale (player) ever," Escovedo recalls. "He saw that my brothers and I wanted to become musicians, and he took us under his wings."
Puente's influence changed his life.
Now several decades later, Escovedo has become an internationally recognized percussionist, nominated for two Grammy Awards and hailed for performing and touring for years with music legend Carlos Santana.
"It has taken a lot of years to reach where I am today," Escovedo says of working so closely with musical titans. "But I still feel that there is much more to learn."
Not only does the percussion master attribute much of his vibrant musicality to Puente's influence, but Escovedo also created his now world-renowned, Latin-jazz orchestra at Puente's urging.
Performing with his orchestra on September 13 and 14 at The Smith Center, Escovedo looks forward to showcasing his own unique stylings that fuse Latin music with a wide variety of fun, energizing styles.
"I like to relate to the audience through the music," Escovedo says. "Our performances are like inviting everyone to our house for fun and music."
Touring with Santana
Escovedo's introduction to Santana seemed fated.

They bumped into each other in a San Francisco club, where Escovedo was performing with his brothers.
Their impressive musicality and performance style made a fast impression on Santana.
"(Santana's) band was just starting out, and they invited us to come to their rehearsal," Escovedo remembers. "We all jammed until the wee hours of the morning."
This marked the beginning of many years of collaboration. One of Escovedo's brothers joined Santana's band first, and he joined soon after.
Finding a seamless musical connection with Santana, Escovedo proceeded to tour with the icon for years, and even played on three of Santana's albums.
"Playing with Carlos Santana was an incredible experience for me, as I was able to tour all over
the world," Escovedo says.
It also helped launch him to many more opportunities, including touring and collaborating with musical greats like Prince, Herbie Hancock, The Temptations and Stevie Wonder.
"I felt that I was finally getting somewhere in the music business," he says.
Creating a Whole New Sound
Escovedo gained broad renown through his own stylings, which broke ground in merging unexpected genres.
Drawing from his personal roots, he explored blending smooth jazz, salsa, Latin jazz and contemporary music.
"I was brought up in the Bay area where music of all styles were being played every day," Escovedo explains. "I enjoyed all of the different styles, which have stayed with me."
That's why, when finally starting his own band, he focused equally on Latin and jazz stylings.
Under Puente's suggestion, he developed just the group to achieve such a sound.
Now hailed as among the best in the country, his Latin-jazz orchestra features a lively, five-person horn section and the top rhythm and percussion artists of the music industry.
"My band consists of great musicians who bring the music together," Escovedo says, adding that this includes his own sons, Juan and Peter Michael
Prominent musicians undoubtedly run in his family – Escovedo is also the father of famous percussionist Sheila E.
"Sheila of course is my pride and joy. She has become a star in her own right," he says. "We still have times together when she performs with me, or I perform with her band."
Still eager to share his music even after 64 years of performing, Escovedo will offer Southern Nevada audiences an uplifting night of energizing rhythms and vibrant original hits, along with stories from his compelling personal journey.
"I hope the people in Vegas will come out to see the show, and that they will be blessed with the music and that they will have blessed us with their presence," he says.
The Pete Escovedo Orchestra performed in Myron's Cabaret Jazz in September of 2019.