8/12/2019
Family Programming / Performances and Artists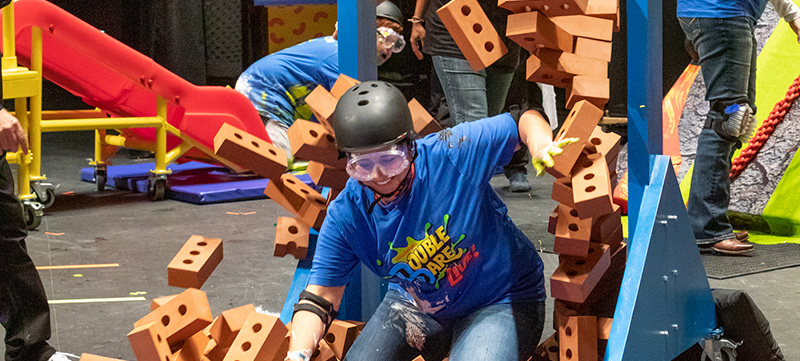 Trivia, Stunts and More
Without a doubt, Americans gained true gems of wisdom from watching television's messiest game show, "Double Dare" on Nickelodeon.
Featuring tenacious children competing in brain-tickling trivia and deliciously disgusting stunts, the long-running series that taped over 500 episodes made an art of Slime soaking, pie plastering and booger busting.
Now families can experience their favorite series live — and potentially even participate themselves.
The TV show's famously high-energy and hilarious antics will come to The Smith Center's stage on October 20 in Double Dare Live!
With audience members invited to compete on stage to test their mettle — and their Slime-swimming skills — this energizing production includes all of the TV series' highlights, such as mind-bending trivia, messy physical stunts and even the legendary obstacle course.
The production even features the same beloved host as the TV show, Marc Summers.
In anticipation of this upcoming live show, consider below the weighty lessons viewers gleaned from the many years of "Double Dare."
Sometimes Life Gets Messy
To have any chance at winning, Double Dare competitors had to simply embrace the mess.
Whether they were breaking eggs against their heads, digging their arms into an oversized nose, or wriggling through an obstacle course covered in cream, these kids knew their outfits would need an extra run through the washing machine.
From their intrepid examples, audiences learned this tough but vital truth: life can get messy, and sometimes the best solution is to tackle it head on (literally).
There's Always a Use for Leftovers
To outfit the zany television set with appropriate amounts of muck and guck, "Double Dare" used food — lots of food, including gallons of whipped cream, eggs and popcorn.
To minimize waste, the TV show used past-dated canned foods and other expired items.
This provided a very helpful life tip: When unsure about the expiration date on that dessert in the fridge, simply use it to create an obstacle course …Or gently toss it into someone's face.
Teamwork Pays Off
If Double Dare asked anything of contestants, it was to trust their teammates.
On any given episode, one teammate might have to launch pies from a catapult while the other caught them in oversized clown pants. Or a pair of competitors might race against the clock to fill a container with Slime, or catch meatballs together in giant bowls of spaghetti.
Regardless of how nose-wrinkling the stunt or how tricky the trivia, competitors found that in order to complete challenges and win coveted prizes, they needed quick-thinking collaboration with their cohorts.
Even during high-stakes situations, the most successful competitors devised how to work together and trusted each other to get the job done.
This lesson remains relevant today and for all time: working together with a smile, even in a pool of Slime, will ensure success.
Double Dare Live! was a part of the 2019-202 season.