8/2/2019
Discovering The Smith Center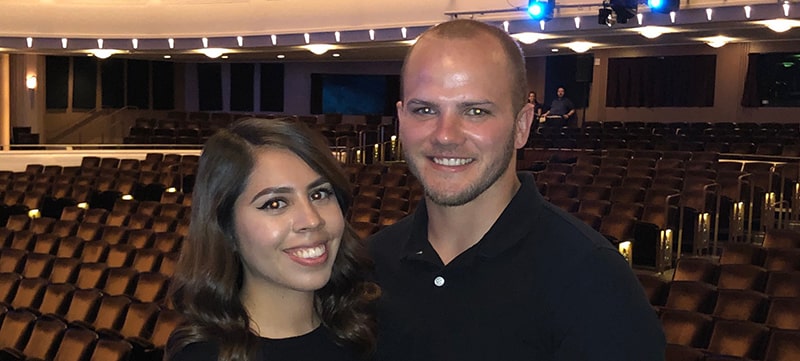 Ever since Eliana Martinez first saw a Broadway production at The Smith Center, she says, she's been "hooked."
"Everyone who knows me knows that I love musicals, Broadway and theater," says Martinez, who has lived in Las Vegas for 21 years. "I really value sharing experiences with people I love, so I'm excited to make new memories with every performance."
This makes it fitting that Martinez — who works for the nonprofit Communities In Schools of Nevada to help students find success — was randomly selected as the winner of The Smith Center's contest for two free tickets to every production of its 2019-2020 Broadway season.
"I yelled when I found out," Martinez says. "I couldn't be happier. I am thrilled to have the opportunity to attend shows and share them with someone special."
This season offers much to excite a performing-arts fan like Martinez. It includes smash Broadway hits like "Wicked" and "Jesus Christ Superstar," plus fresh, new Broadway hits such as "Mean Girls," "The Band's Visit" and "The SpongeBob Musical."
"I am excited to watch all the shows, but especially 'Wicked,'" Martinez says. "It is such an iconic show that I've been dying to see since the last time it was at The Smith Center, so I'm excited that I finally get to see it."
This summer has been a good one for Martinez, who also just became engaged. She plans to share her tickets for each of this season's shows with her fiancé, a special education teacher, and her sister.
"My fiancé and I love doing different things and going out to shows," Martinez says.
Finding Herself Through Theater
The performing arts have long shaped Martinez's life, she says, especially when she found acting in high school productions gave her a creative outlet as a shy teenager.
"When I was on stage, I was confident. I loved playing someone completely different every time, and it really helped me get out of my shell," she remembers. "I enjoy seeing everything come to life (in live performances), from the sets to the costumes."
Martinez enjoys every show she sees at The Smith Center, she adds, with her favorites including The Little Mermaid and Hamilton.
"The Smith Center provides a type of entertainment that was lacking (in Las Vegas) and completely different than what's on the Strip," she says. "It gives a range of high-quality performing arts shows from theater, dance and classical music that you can't find anywhere else in Las Vegas."
An Impact Beyond the Stage
Martinez has experienced The Smith Center's impact outside of productions, as well.
As a nonprofit, The Smith Center has partnered with her employer Communities In Schools to cover the cost for some of the program's students to attend The Smith Center's Camp Broadway summer theater program.
As Martinez's job focuses on supporting students at Chaparral High School, she also appreciates The Smith Center's Heart of Education Awards that honor outstanding Clark County School District teachers who she sees firsthand "work hard to make a difference in the lives of our students," she says.