6/23/2020
Community Impact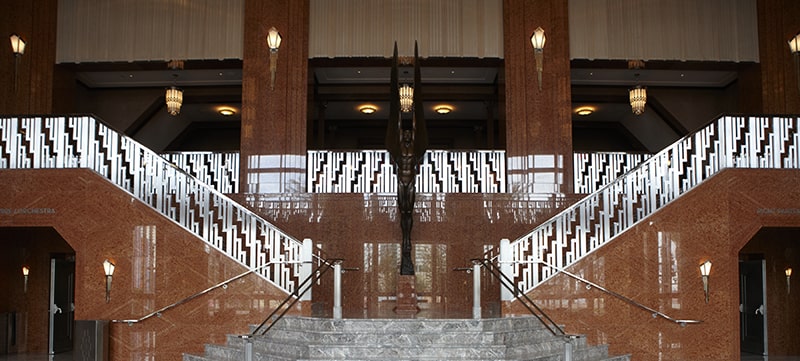 When Mary Richard first heard about The Smith Center being built, the Las Vegas resident made a point to work there as a paid usher as soon as it opened in March 2012.
"I yearned to work here," says Richard, whose career as a singer, dancer and actress includes performing off-Broadway and appearing in "Miss Congeniality" and other feature films. "Having been an entertainer myself for most of my life, since the age of 3, I enjoy live entertainment."
But working at The Smith Center, a nonprofit organization, just wasn't enough.
Now 75, Richard decided to also volunteer at the center – and volunteered over 1,000 hours in eight years.
"I keep volunteering for the sake of devoting more hours to this wonderful entertainment venue," Richard says. "The Smith Center staff are a joy to work with, and the shows are spectacular."
That's why now, during the center's temporary closure, she looks for any way to provide support and help its curtains rise again.
She encourages other Southern Nevadans to do the same.
"What we are experiencing now at the time is heartbreaking, but we will arise and come through this," she says.
Staying Virtually Connected
After volunteering at The Smith Center by giving tours and ushering at performances, Richard misses the thrill of presenting music, theater and dance shows to Southern Nevadans.
"I miss mostly the staff, crew and fellow volunteers," she says. "I miss the smile and the family away from home aspect."
She still serves the community during the pandemic by making masks and giving them away.
She also remains connected to The Smith Center.
Also a Zumba instructor, she uses her fitness skills to help her fellow volunteers remain upbeat and healthy, by teaching virtual Zumba classes to the center's volunteer staff.
She also tunes in and encourages others to watch The Smith Center's Living Room series on social media, featuring Facebook Live concerts with top artists such as Jim Brickman.
"It's not the same as being at The Smith Center, but it's such a joy to see the artists," she says.
From the Screen to the Theater
Richard has many reasons to keep The Smith Center close to her heart.
As the performing arts served as her livelihood, she continues to sing, dance and act with the Sun City Anthem Performing Arts Club, and works as a choreographer with a variety of Las Vegas dance troupes.
She still looks back fondly on working on hit film "Miss Congeniality" and shooting a scene with Sandra Bullock where the leading actress had to push Richard out of the way.
"After the scene was over, Sandra Bullock apologized that she many have pushed me too hard," Richard remembers. "I told her it was OK, and we both laughed about it. She was so sweet."
As both performing and watching shows "enriches my life," Richard looks forward to making many more memories at The Smith Center.
She feels grateful for the center presenting Broadway productions and performers such as the Royal Philharmonic and Alvin Ailey American Dance Theater that might not otherwise come to Las Vegas.
As The Smith Center looks forward to reopening in the future, she encourages community members to contribute to the center's Road to Reopening fundraiser.
"Please keep the faith and do whatever you can to promote The Smith Center, so we can all continue the joy of the arts," she says.
Provide Support
With nearly 300 performances cancelled or postponed during its temporary closure, resulting in a revenue loss of nearly $20 million, The Smith Center needs community-wide support more than ever.
To donate in support of The Smith Center's Road to Recovery, click here.