3/9/2020
Performances and Artists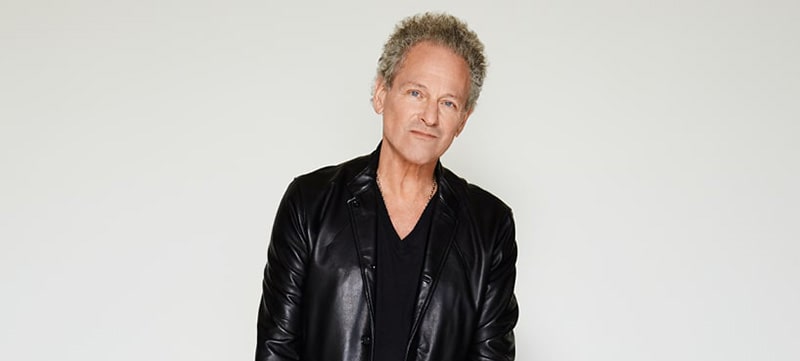 Renowned Guitarist-Singer-Songwriter Lindsey Buckingham to Perform Greatest Hits
Countless people know and worship the band Fleetwood Mac – but few likely remember Buckingham Nicks.
That's because this duo, comprised of guitarist-singer Lindsey Buckingham and Stevie Nicks, didn't exist long.
Instead, it unexpectedly served as their stepping stone to joining Fleetwood Mac and bringing the group to international fame.
"We just threw the dice and said, 'let's give it a shot,'" recalls Buckingham, a three-time Grammy winner regarded today as one of the greatest guitarists alive.
Also a renowned singer-songwriter, Buckingham will perform his numerous hits April 25 at The Smith Center.
Buckingham and Nicks didn't make music together when they met in high school, he says. Only after they graduated and began attending the same community college did they join a local band, Fritz.
When the group failed to earn a record deal, producers identified Nicks and Buckingham as the true talent.
With this encouragement, the pair formed Buckingham Nicks and "woodshedded up" for a couple years in Northern California, he says, where they wrote music and became romantically involved.
"We had this goal now, because we knew there was some interest in us from L.A.," he says.
Buckingham's masterful guitar stylings and infectious songwriting earned the duo a record deal.
His talent also hooked the attention of Fleetwood Mac.
"One day I get this call from Mick Fleetwood, saying 'hey, you remember me?'" Buckingham recalls. "He says, 'how would you like to join Fleetwood Mac? We're looking for a guitarist.'"
Buckingham had one condition.
"I said, 'if you're going to take me, you have to take my girlfriend, too,'" he remembers.
The rest became music history.
Nicks' vocals and Buckingham's songwriting helped Fleetwood Mac sell over 120 million albums worldwide, making it one of the top-selling bands in history.
While Buckingham is no longer with the group, he looks back fondly over his 40 years as the group's guitarist and chief songwriter.
"There was this intangible synergy that we had," he says. "It was a chemistry. It was something transcendent."
The Drama Behind 'Rumours'
One of Fleetwood Mac's greatest successes was distilled from heartbreak.
The album "Rumors," which included three Top 20 singles and earned a Grammy for Album of the Year, was written and recorded during the breakups of the band's two couples, John and Christine McVie and Buckingham and Nicks.
Buckingham remembers the recording sessions as highly emotional.
"We had to say, 'we've got these emotional challenges and painful subjects that exist in this room, but we have to seal them off in one corner to get done what needs to be done,'" he says.
And yet, this very drama drove the songwriting for the album, he says.
"There was the appeal (of the album) of this musical soap opera that really was about our personal lives," he says.
Going Solo
Even with Fleetwood Mac's tremendous fame, Buckingham had some frustrations.
In particular, the band's pre-established sound prevented him from showcasing his guitar virtuosity.
"The amount of ground I would've covered on a single guitar part became, for the most part, irrelevant," he says. "That was a big pill for me to swallow."
Fortunately, the miraculously self-taught guitarist has continued to flex his talent through his prolific solo work, which spans several albums.
He will feature his prominent guitar stylings by playing both his solo hits and Fleetwood Mac favorites at his upcoming concert.
"I was quite taken with curating from a 35-year-plus body of work," he says. "To go out and celebrate that has been really very cathartic."
SEE THE SHOW
Please note: the status of this performance has changed. Please visit our information page for COVID-19 related performance updates HERE.