11/25/2019
Community Impact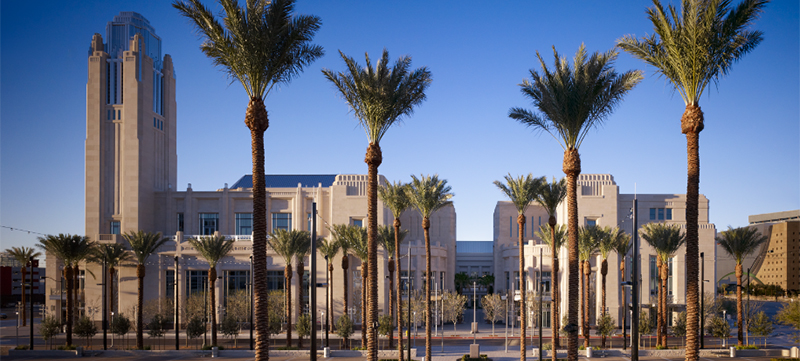 When Breanna Keeter moved to Las Vegas less than a year ago, the thirtysomething found herself searching for a few things.
This included seeking new friends, and a productive way to spend her time as she job hunted.
She also hoped to connect with the community's performing arts scene — her lifelong obsession.
Theater has been a love of my life for as long as I can remember," says Keeter, who has worked in ticketing and administration for theater organizations across the country. "I think it's just an amazing way to journey through your emotions, to celebrate talent and rejoice in music, dance and culture."
She found everything she sought by volunteering at The Smith Center, a nonprofit organization.
Within just a few months of becoming a volunteer, Keeter ushered at numerous shows, assisted with the center's student matinees, and provided support with many aspects of the center's operations.
She also bonded with The Smith Center team, forging a connection with her new community.
Above all, she feels proud to play a direct role with making the arts accessible to Southern Nevadans.
"Volunteering at The Smith Center makes me feel like I'm contributing some good to the world," Keeter says. "I think the best effect that attending live theater has on the public is an increase in empathy, and I think that's important now and always."
Perks for Volunteers
Keeter also enjoys the many advantages from volunteering with The Smith Center, she says.
She appreciates the flexible hours, as the center offers volunteer opportunities every day of the week, including nights and weekends.
Before landing her current job at Caesars Entertainment, Keeter preferred volunteering on weekdays and weeknights. Now that she works full-time, volunteering on weekends fits her schedule best.
She also embraces the opportunity to experience shows by volunteering as an usher.
"What I enjoy is equal parts seeing the shows myself, and seeing the audience fall in love with the production and the magic of the show and the space," she says.
Making a Difference
Keeter sees a direct impact from her volunteering, she says.
Her favorite volunteering experiences stem from supporting student matinees. She assists with presenting shows in The Smith Center's theaters for thousands of Southern Nevada students, many of whom haven't experienced live theater before.
"It is so rewarding to see future theater fans really getting dressed up and excited about the live performing arts," Keeter says.
She also takes pride in helping nurture a love for the arts among adults, she adds.
"I hope other people can see the value of volunteering their time, and also frankly the payback they receive," she says. "Like free access to great shows, the feel-goods and new friends."
Volunteer Opportunities
As a nonprofit, The Smith Center relies on volunteers to support many of its services, including as volunteer ushers, tour docents, community ambassadors and more. To learn more, click here.