1/3/2020
Community Impact / Supporting the Arts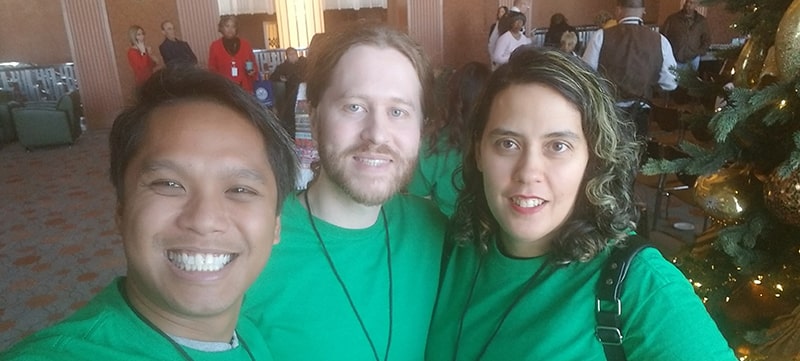 David Grayson estimates that at any given time, he has tickets for at least 10 upcoming Smith Center shows.
"Ever since I found The Smith Center, I have been frequenting Reynolds Hall and Myron's Cabaret Jazz," says Grayson, a 32-year-old software developer and Las Vegas resident.
With this fierce love for the performing arts, "I'm interested in meeting people like me and getting more involved with The Smith Center," he adds.
That's why Grayson joined Fanfare!, The Smith Center's networking and engagement group for young philanthropists with a passion for the arts.
Targeted toward arts enthusiasts 21 to 39 years old, Fanfare! offers special opportunities to experience The Smith Center and Southern Nevada's arts-and-culture scene.
"I expect it will be a great resource to me," Grayson says. "Any friendships I form through Fanfare! will be extra fun, because we'll always have things to talk about and do."
As a new member, Grayson recently participated in his first Fanfare! event: volunteering at The Smith Center's sensory-friendly performance of "Dr. Seuss' How The Grinch Stole Christmas! The Musical."
He hadn't previously been aware of sensory-friendly shows, specially adapted for audiences with disabilities.
"I anticipated it being a unique and eye-opening experience," Grayson says.
Making a Difference While Making Friends
He got that, and more.
Grayson helped at the event by answering questions and distributing squeeze toys to attendees. He learned how people with disabilities might face challenges in attending live shows, especially those with sensitivities to jarring lights and sounds.
"I am so happy that The Smith Center goes out of the way to provide sensory-friendly shows," Grayson says. "I am glad we live in a world where people are not competing 100 percent of the time, but also have time to do kind things for those who were born differently."
He also appreciates that Fanfare! gave him the opportunity to help provide a joyful theater experience for community members.
"A little girl saw from a distance that I was handing out toys, and she got so excited that her jaw hit the floor," he says.
Grayson even bonded with other Fanfare! members, and enjoyed watching the show with them.
"Because of Fanfare, I met some good people who are also members, put smiles on people's faces and was able to see a great musical," he says. "I am looking forward to future Fanfare events."
The Benefits of Fanfare! Membership
Fanfare! members can enjoy many experiences like this.
Fanfare! members enjoy the exclusive benefits below.
Invitations to special Fanfare! events throughout The Smith Center season
Networking with other young individuals and the leadership of The Smith Center
Developing new skills with teaching artists
Group volunteer opportunities
Advance notice of shows and special ticket offers
Special meet-and-greet opportunities
For more information, email [email protected]