5/17/2019
Community Impact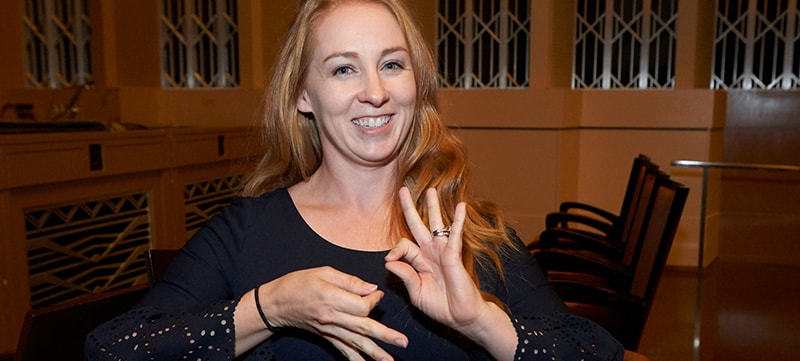 The Smith Center Provides American Sign Language Training for Employees
While Kim Russell noticed her hearing beginning to fail a few years ago, it took the reality of testing out hearing aids to acknowledge the problem.
"The most uncomfortable issue is not a question of whether to share and talk about it, but mostly learning to adjust to it," she says, recalling missing out on conversations and blasting her car radio when not wearing her aids.
Experiencing Broadway shows at The Smith Center still remains a great joy for Russell, a program manager at The Smith Center.
And regardless of her hearing, she says, the performing arts will always remain a significant part of her life, as it does for many in the Deaf or Hard of Hearing (DHH) community.
"Regardless of our physical uniqueness, we can be moved by the musical rhythms we feel in our bodies," Russell says. "We can be touched by the visual impact of the emotional stories acted before us."
With this in mind, under its mission as a nonprofit to make the performing arts accessible to all, The Smith Center recently took steps to ensure visitors who are DHH enjoy a full and enriching experience.
With the goal of improving supportive communication with all visitors, the center provided American Sign Language (ASL) training for 20 Smith Center team members. These included ushers and additional Front-of-House staff, plus team members like Russell who provide education and outreach programs.
Taught by national, Henderson-based company ASL Communications, the training covered helpful communication basics like greetings and directions, as well as common misconceptions to overcome.
This marks the first of ongoing ASL trainings planned across Smith Center departments.
This also comes in addition to The Smith Center providing ASL interpretation at select shows and events throughout the year.
Russell hopes this training will not only help DHH audiences enjoy inspiring shows at The Smith Center, but will also promote broader use of ASL in the community.
"The more performances with ASL accessibility, the greater the acceptance of ASL," she says.
Breaking Down Barriers
To broaden people's perspectives, Smith Center team members who are (DHH) also shared their stories during the training.
This included usher Robert Rocha. Growing up hard of hearing, he never had an opportunity to learn ASL, and faced ongoing challenges with communication.
The training at The Smith Center has inspired him to become fully certified in ASL, he says.</p.
"I want to continue for myself and to become an interpreter," Rocha says. "I'm hoping my impact will be to teach many people how to sign."
This training also helps him in his role as an usher, he adds. In the past, he communicated with DHH visitors using a notepad.
"Hopefully I will be able to ditch the notepad and communicate by using my hands," Rocha says.
Rebecca Boyd, program manager with The Smith Center's Education and Outreach team, adds that the ASL training will help her engage with DHH students and teachers at The Smith Center's student matinees.
"I am looking forward to truly greeting our next students here at The Smith Center, and I feel proud of the effort to communicate with them more fully," Boyd says.
Rocha deems it vital to ensure equal access to the performing arts for the DHH community.
"The arts have an impact on everyone," he says. "Whether it's music, movies, a play or painting, it belongs to every human."
LEARN MORE
For more information about accessibility at The Smith Center, visit www.TheSmithCenter.com/accessibility.