12/14/2020
Discovering The Smith Center / Education and Outreach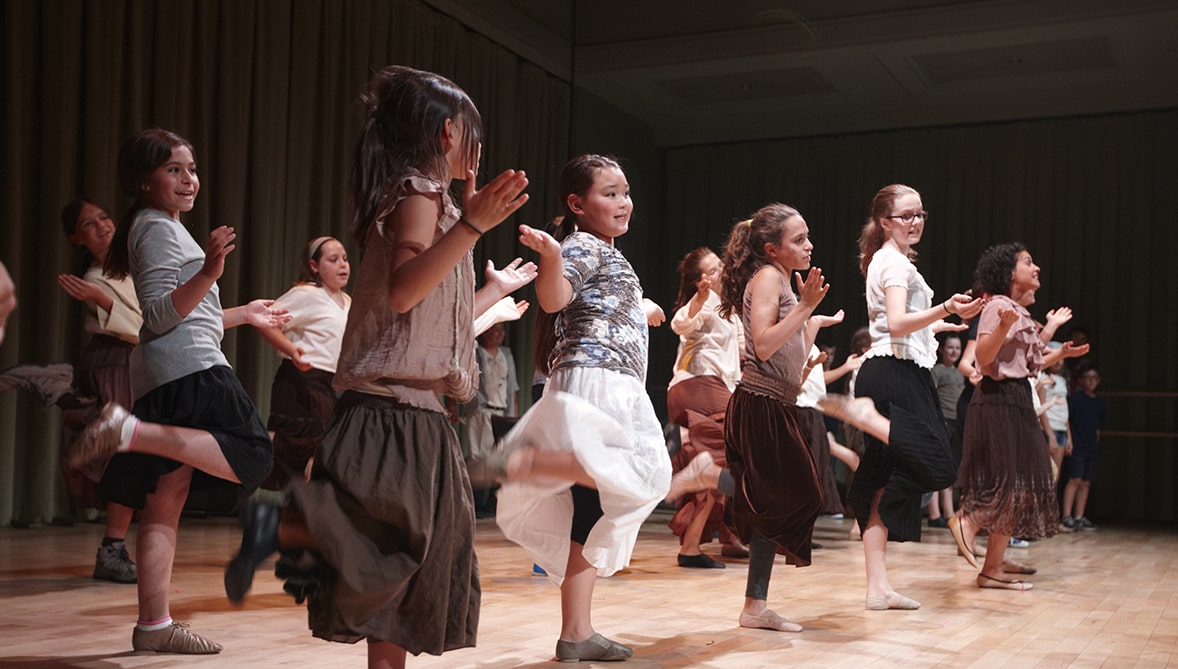 In a traditional year, one visual remains constant at The Smith Center: The sight of school busses lining up outside its doors.
"We always say education is in our DNA," says Smith Center President and CEO Myron Martin.
While most Southern Nevadans know The Smith Center best for its music, theater and dance performances, the nonprofit impacts tens of thousands of students and teachers each year through its education and outreach initiatives.
Many students experience live theater for the first time through the center's student matinee program, presenting performances for over 70,000 students each year at no cost to schools.
Other students experience The Smith Center's master classes with elite artists, and many perform school productions made possible through the center's Disney Musicals in Schools program.
Little do many know, The Smith Center's outreach efforts began years before the center even opened.
Candy Schneider, vice president of education and outreach, discusses below the center's earliest arts education initiatives — and how they paved the way for so much more.
"Students who attend a performance, come to a master class or participate in another art form, they experience collaborative work, problem solving and creativity," Schneider says. "Those are all skills that are transferrable in any scenario."
Outreach Before Opening
The Smith Center opened in March 2012 — but Martin and the center's core team began its official education and outreach work as early as 2006.
"We borrowed performing spaces," Schneider explains of organizing events prior to the center's construction.
Before the center even had an official name and Schneider had joined in an official capacity, she says  Martin arranged for the Grammy-winning Soweto Gospel Choir to perform for students and community members at the House of Blues in 2006.
"We had school choirs and gospel choir groups in town attending the performance," Schneider says. "It was breathtaking."
Later, through a partnership with the Kennedy Center, the team organized professional development training at Vegas PBS for public school teachers, to use the arts to engage engaging students in the classroom.
The team further coordinated in-school and community performances with Ailey II, a leading contemporary dance group founded and operated under the world-renowned Alvin Ailey American Dance Theater.
Not only did this provide students with rare performance experiences, but photos of these events previewed to the community what this center held in store for arts education.
"It helped people to understand why we would need to build something like this, and the power it would have," Schneider remembers.
The First Student Matinee
The same month The Smith Center opened, it presented its first student matinee.
At no cost to schools, hundreds of excited students packed the center's Troesh Studio Theater for a performance of "Frindle," an acclaimed play adapted from the popular children's book.
The event even included a Q&A with the playwright, where third and fourth graders eagerly asked questions.
"(A Q&A) is great for kids, but even more so for the parents and the teachers, because the kids ask very thoughtful questions that leave the adults in awe," Schneider says.
She will always remember watching school busses pull up to the center for the first time, she adds.
"Someone once asked me 'what are your strongest memories with The Smith Center?' and of course that was one of them," Schneider says. "There's nothing like a long line of yellow busses delivering kids for performances."
The First Master Class
Still within The Smith Center's first year, the center's first master class set the bar high with world-renowned contemporary dance company MOMIX.
The class generated strong community interest, with every slot filled and a long waiting list.
The elite performers worked directly with a class of community members that included high schoolers, teachers and professional dancers.
"MOMIX saw the value of having all of those levels of learning together, for participants to inspire each other," Schneider recalls.
Generous with their instruction, the performers fully engaged with the group by leading exercises and teaching real MOMIX choreography.
"It really resonated with the participants," Schneider says. "The idea of being inspired and informing your artistry through the artistry of others is something that dancers really treasure."
The First Camp Broadway
Several years ago, The Smith Center's president and CEO took his daughter to participate in the Camp Broadway youth theater program in New York City.
He knew quickly he wanted to bring it to The Smith Center.
That's because Martin saw his daughter light up while working with other children to learn singing, dancing and acting.
Now as one of few select sites nationwide to offer Camp Broadway, The Smith Center provides this collaborative experience for 150 participants each year.
"Every year when Myron welcomes parents and kids to Camp Broadway, he tells the story of taking his daughter to New York, and how he really wanted that experience for the families in our community," Schneider says.
The Smith Center's inaugural Camp Broadway in 2012 marked the first time that the center's Boman Pavilion filled with exuberant children for a full week, all learning theater arts.
Parents and Smith Center staff alike felt tremendous pride watching participants perform the Family Finale show at the end of camp.
"To see the building spaces filled with kids all day long, learning choreography and songs and stage design and costume design – all working on a show together, it was pretty amazing," Schneider says.
Upholding a Legacy
All of these efforts align with the vision of The Smith Center's namesake, Fred Smith.
When Smith joined the center's core team on a tour of theaters for design ideas, he had a moment of clarity upon watching children pour out of a bus to visit a venue.
He now understood the center's impact, he told Martin.
"It's not just about the arts. It's about the kids," Smith said. "We're making Nevada a better place to live, by helping our kids."
The Road to Reopening
Due to public health and safety guidelines during the pandemic, The Smith Center has cancelled or postponed over 350 performances, including student matinees, totaling more than $20 million in lost revenue.
As a nonprofit, The Smith Center needs community support now more than ever.
To help open The Smith Center's doors again, click here to support our Road to Reopening Fund.