6/22/2020
Education and Outreach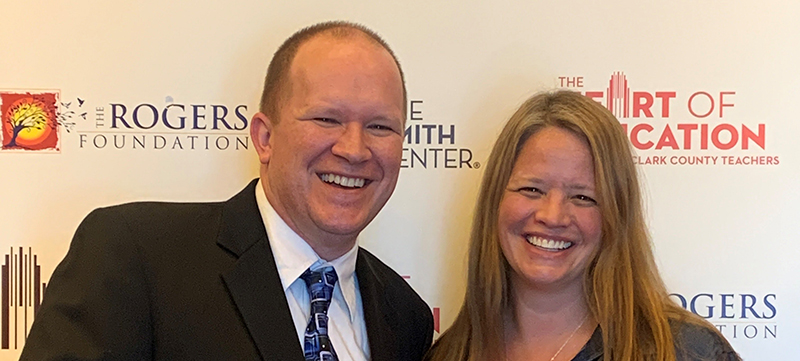 When Matthew Christian and Heather Houchens first met 10 years ago, the two teachers at Barbara and Hank Greenspun Junior High School quickly earned each other's respect.
"No matter what the situation, Matt is an advocate for what is best for students," says Houchens, the school's choir teacher. "He is one of the most selfless teachers I have met."
Christian, the school's robotics teacher, hails Houchens as "an incredible teacher who inspires her students to have a passion for music."
Their mutual admiration likely spurred their eventual dating. The teachers married on June 1, 2018.
As it turns out, the Southern Nevada community also sees something special in both educators.
Both Christian and Houchens have now received Heart of Education Awards from The Smith Center, honoring them as outstanding educators who make a difference in the lives of students.
Houchens received her award in 2016, recognizing how she quadrupled student participation in the school's choir program.
Christian just earned his award for the fifth-annual awards program, to celebrate his creation of the school's leading robotics program.
"It was an amazing and humbling moment," Christian says of learning about his award through a surprise Zoom conversation with Myron Martin, Smith Center president and CEO.
It's all the more special because he and his wife have both received this recognition.
"Having both of us be honored puts validation on all the hard work we have both put into developing and maintaining our programs," Christian says.
The Lesson of Love
Christian and Houchens became fast friends a decade ago, sharing enthusiasm as they worked together on school committees and chaperoning field trips.
When their friendship evolved into romance a few years ago, Christian admits he felt nervous.
"Our biggest fear of dating was that if we did, and things didn't work out, how would it mess up our friendship circles and working environment?" he remembers.
But it turned out to be easy.
They shared the same holidays and understood each other's complex schedules. Above all, they supported one another's passion for providing students with every opportunity.
"If I needed a chaperone for a choir trip, he was there. If he needed a female representative for a Girls in Tech event, I could help him out," Houchens notes. "Life as two teachers at the same school actually complements each other."
Two Star Teachers
Christian and Houchens remain two of the school's most popular teachers.
Originally a math teacher, Christian started a robotics club 10 years ago to boost interest in math and science.
After starting with just a handful of students, Christian's dedication expanded the club into a popular elective class with nearly 300 students, who have earned awards at world robotics competitions.
He also focuses on bringing more girls to robotics and STEM education, through targeted recruitment and organizing workshops and field trips for female students.
"This above all other things gives me the most pride, to know that when they look at STEM fields, they see themselves as powerful young women," Christian says.
Houchens has expanded the school's choir participation from less than 150 to 400 students.
She develops students' self-esteem and leadership skills by organizing talent shows, community performances and activities that promote teamwork.
"(Receiving a Heart of Education Award) was an encouragement that every kid is worth taking the time to get to know and care about," she says.
Helping Teachers Recharge
Even with this year's Heart of Education Awards celebration cancelled due to public health and safety guidelines, the 20 award recipients each received a $5,000 cash award and a $1,000 donation to their school.
Christian applauds The Smith Center for still honoring teachers this year, with the support of The Rogers Foundation.
"There are those moments where you are tired and drained in the profession," he admits. "Honors like the Heart of Education Awards encourage and recharge teachers, motivating them to go above and beyond their job requirements and continue to inspire young minds."