11/18/2019
Performances and Artists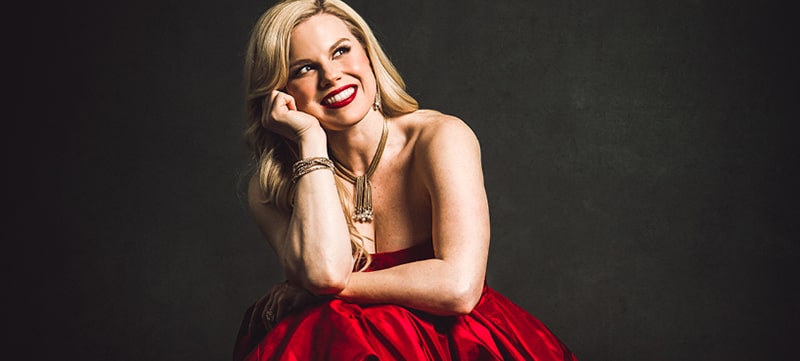 Stage-and-Screen Star to Perform Showtunes and More
Looking back on her starring role in NBC's hit musical series "Smash," Megan Hilty describes the show as "everything I've ever wanted to do, wrapped up in one job."
Audiences nationwide fell in love with Hilty through the show, costarring film and television titans such as Anjelica Huston and Debra Messing, which chronicled the obstacles, drama and talents involved with creating a top Broadway musical.
Portraying a powerhouse performer gunning for a starring role in a new Broadway production, Hilty showcased her stunning vocal, dance and acting skills as a real-life triple threat.
"I got to sing, play a very complex character and work with some of the most talented people in the business," says Hilty, a Tony-nominated performer whose career spans theater, film and television. "I will always be so proud to have been a part of something that brought Broadway into people's living rooms each week."
Beyond the show, Hilty has starred in real Broadway productions, too, including playing Glinda opposite Idina Menzel in Broadway megahit "Wicked."
Southern Nevadans can witness Hilty's rare talent for themselves when she returns to Myron's Cabaret Jazz on January 17 and 18.Not only will she sing her favorite showtunes, standards and a few surprises, but she will also share insider stories from her glittering entertainment career.
"My goal is for people to feel almost as if they are in my living room with me and my band," Hilty says. "I want everyone to feel like they've gotten to know me a little bit better through the songs and stories I've chosen."
Success Outside of 'Smash'
While "Smash" marked a major opportunity for Hilty, her career extends across all performance mediums, including recording albums, giving concerts at top venues such as Carnegie Hall, performing in theater productions and starring in additional television shows like NBC's "Sean Saves the World."
"I just like working, period," Hilty says when asked if she prefers any medium above others.
She has even stretched her skills to voicing characters in animated feature films such as the "Shrek" franchise, which she hails as so technically challenging that it "makes me happy in a way that I can't quite put into words."
Her favorite career experiences include working opposite Menzel in "Wicked," and getting to know Bernadette Peters when the entertainment icon played Hilty's mother in "Smash."
Hilty was also grateful to work closely with Dolly Parton, while starring in Parton's Tony-nominated Broadway musical of the film "9 to 5."
"I've definitely learned a lot from watching the incredible women I've been lucky enough to work with," Hilty says. "They all are such strong, insanely talented businesswomen, who always treat the people around them with kindness and respect."
A Surprising Set List
The set list at Hilty's upcoming shows will "keep everyone on their toes," she vows.
That's mainly because "it's all over the place," she adds.
She plans on belting Broadway showtunes, hit melodies from "Smash" and the Great American Songbook — plus some musical treats such as covers of Dolly Parton and even possibly Patsy Cline.
Hilty feels enthusiastic about returning to The Smith Center and Las Vegas, especially with her band that features her husband on guitar.
"Las Vegas will always be a special place for me and my husband, because that is where we got married," she says of their ceremony at the Venetian. "We try to get back as often as we can, and I am particularly excited to be at The Smith Center with my band. The audiences there are so wonderful and responsive, I can't wait to get back."
Megan Hilty performed at Myron's Cabaret Jazz in January of 2020.