8/10/2018
Broadway Las Vegas / Community Impact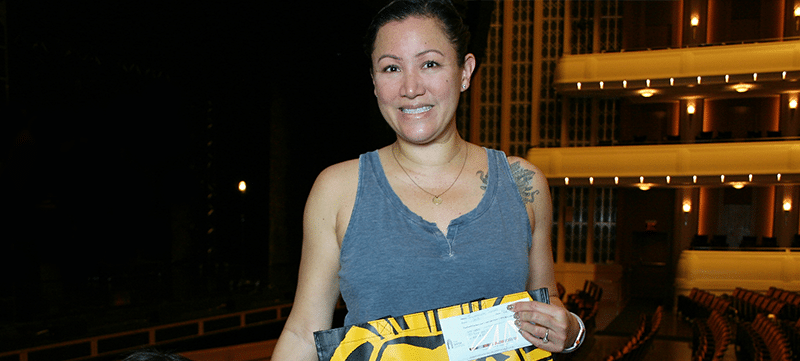 Admiring the view from the Row B parterre box in Reynolds Hall at The Smith Center, Sarah Iwamuro said she had never sat so close to the stage.
"This is incredible," said the Las Vegas resident and mother of four.
Iwamuro and her family will get used to the close view of the stage, as she was the randomly selected winner of The Smith Center's drawing for two free tickets to all 10 shows of the 2018-2019 Broadway season, which includes smash Broadway shows like "The Lion King," "On Your Feet," "Dear Evan Hansen," "Waitress," and "Come From Away."
"I still can't believe it. I never win anything," Iwamuro said with a laugh after picking up her tickets.
With Iwamuro and a guest seeing all 10 shows in the same parterre box seats, she plans to use this as an opportunity to make memories with her children. 
She looks forward to alternating between seeing each show with her 13-year-old daughter and 11-year-old son, who has already called dibs on "The Lion King."
"This will be our thing together," Iwamuro said.
Personally, she is most excited for "Waitress," running October 9 to 14, which features a score by popstar Sara Bareilles, and "Dear Evan Hansen," running January 15 to 20, which is acclaimed for its songs written by Benj Pasek and Justin Paul, who composed the tunes for hit film "The Greatest Showman."
"When I found out 'Dear Evan Hansen' was coming, I really wanted to take my daughter, so it's amazing to have these tickets," Iwamuro said. 
A 19-year resident of Las Vegas, Iwamuro added that she loves how The Smith Center has brought so many music, dance and theater performances for locals to experience, just as she enjoyed in her native Hawaii.
"It's a beautiful, state-of-the-art theater," she said. "It brings a whole other level of entertainment to Las Vegas."