4/17/2019
National Geographic Live / Performances and Artists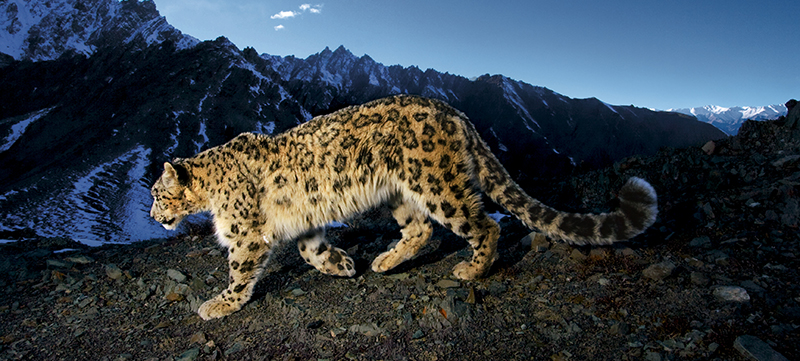 To say Steve Winter has seen some wild times in his career as a National Geographic photographer is an understatement.
Flying over a volcano in a helicopter? He's been there. Being charged by a 12-foot-tall bear in Siberia? He's done that. Running from an irate herd of elephants? He's been there, too.
"I've been scared to death, to the point where you can't breathe and your heart is in your throat," Winter admits.
Ask him about his greatest accomplishments behind the lens, however, and it all comes back to his documenting rare big cats around the globe, from tigers in India to snow leopards in the Himalaya.
"Part of (my inspiration) is just my love for these animals and how you feel connected to the natural world when you're out in it," he says.
This thrilling multi-media presentation will showcase Winter's rare and epic photos, as well as videos of his escapades – including being charged by deadly animals.
"I will take you in the field with me, like you're there," he says. "I want to share all of this excitement."
The First to Track Big Cats
Winter takes pride as the first photographer to ever document some of the world's greatest carnivorous cats.
That includes the massive jaguars of the Brazilian wetlands, which Winter only discovered by investigating leads from Brazilian cowboys, who considered the cats pesky threats to livestock.
"It's the third-largest cat (in the world), but no one had seen them before I took photos," Winter says. "I learned that in remote locations, you need to rely on local people, because they know their area better than anyone."
He was also the first photographer to track snow leopards in the Himalaya, thanks to a native with the lone knowledge of a remote area where he could watch the leopards hunt and play with their cubs for days on end.
"They're a major predator, but they didn't mind us being there," Winter says. "The animals get used to you and your smell."
His greatest challenge? Snapping a photo of a mountain lion stretched under the Hollywood sign – a photographic feat that involved help from the National Park Service and a cat that enjoyed Cher's backyard.
"As a photographer, you always have to find a way," Winter says.
Saving Great Carnivores
Each of Winter's adventures with tracking big cats led him to a surprising discovery: He had the ability to help them.
His uncovering the Brazilian jaguars led him to working with a scientist to monitor the cats' populations. His photographing mountain lions in California led to a widespread effort to protect and support these animals, all spearheaded by Leonardo DiCaprio.
"Why would you spend all of this time on a story and not try to save the animal?" Winter explains. "I've found the conversation starts on the pages of National Geographic, and then it brings awareness of how our natural world is vitally important."
Steve Winter took the stage as a part of the 2018-2019 National Geographic Live! series.
Photo Credit: Steve Winter