6/13/2019
Discovering The Smith Center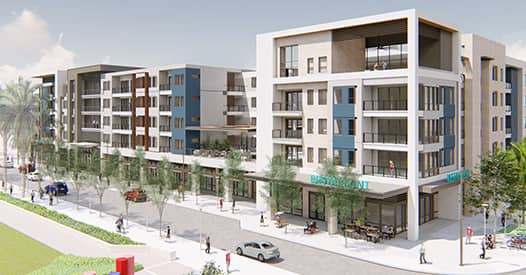 Those who crave a quick commute to Smith Center shows will soon have an impressive option.
Southern Land Company (SLC) broke ground this May on the first-ever residential development at Symphony Park in downtown Las Vegas, a project that will provide 324 apartments directly across from The Smith Center.
Named Auric Symphony Park, the luxury, mid-rise apartment community will sit on 6 acres just north of The Smith Center's front doors and its campus park, the Donald W. Reynolds Symphony Park.
The 61-acre development known as Symphony Park is owned and operated by the City of Las Vegas. The Smith Center does not control the development of the master plan outside of the center's 7 acres.
SLC, a privately held, full-service development company headquartered in Nashville, Tennessee, believes this new project meets the growing demand and need for luxury apartment living in downtown.
"We have long been looking at the Las Vegas market and believe this is the ideal time and project to make our mark here," said SLC CEO Tim Downey.
In addition to studio, one-bedroom and two-bedroom apartments, the development will also include 21,000 square feet of ground-level retail and restaurants, plus a parking garage with 444 spaces.
Supporting The Smith Center
SLC takes the project's proximity to The Smith Center seriously.
The company's groundbreaking ceremony in mid-May included the presentation of a $5,000 donation to The Smith Center's Education and Outreach Department, which to date has provided enriching programs for over 700,000 students and teachers, at no cost to schools.
"We appreciate all that Symphony Park brings to Southern Nevada with landmark facilities like The Smith Center and Cleveland Clinic," Downey said. "We are excited to be part of developing such an important area of the city."
Myron Martin, CEO and president of The Smith Center, accepted the donation during the groundbreaking event and welcomed SLC to the Symphony Park neighborhood.
As a nonprofit organization, The Smith Center will utilize SLC's donation to support its many education and outreach initiatives, which include: presenting student matinees to over 70,000 students each year, helping elementary schools create their own sustainable theater programs with the Disney Musicals in Schools program, providing in-classroom residencies with professional teaching artists, and organizing student workshops and master classes with world-class artists, including Broadway performers.
Continuing Growth Downtown
This apartment community marks one of many projects that continue to grow downtown Las Vegas.
World Market Center Las Vegas recently broke ground on a new, 315,000-square-foot exhibition facility, The Expo at World Market Center Las Vegas, scheduled to open in summer, 2020.
The City of Las Vegas also continues construction on its two parking garages adjacent to The Smith Center, which are slated for completion this August and September.
During the SLC groundbreaking ceremony, Mayor Carolyn Goodman lauded how downtown served as the very start of Las Vegas over 100 years ago.
"It is now a thriving mecca of hospitality, business activity and innovation, especially within Symphony Park," Goodman said. "There has never been a more exciting time for new development in the heart of the city."