3/27/2019
Supporting the Arts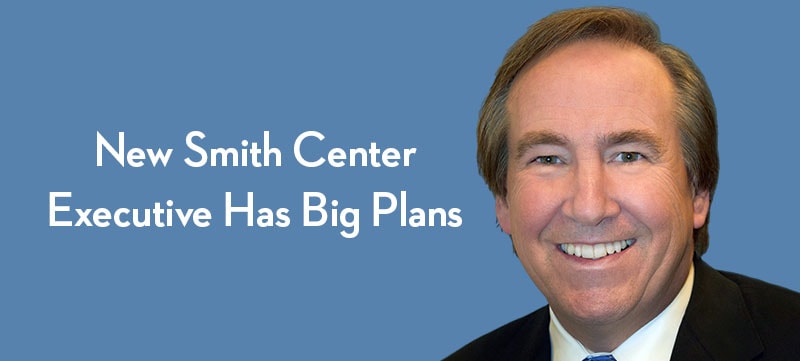 Ask Daniel Neel about his favorite performance at The Smith Center, and he responds, "the most impressive performance at The Smith Center came before it opened."
He refers to how community visionaries across Southern Nevada banded together to successfully raise $470 million to build their dream, The Smith Center for the Performing Arts, which now presents the best of music, theater and dance, on top of providing education and outreach initiatives to over 700,000 Southern Nevada students.
"I watched from the outside looking in as a group of committed and passionate community leaders hatched the vision for a world-class performing arts center in Las Vegas and then made it happen in the most historically difficult economic and philanthropic environment imaginable," says Neel, a professional fundraiser of 20 years whose Vegas ties run deep. "The rest is history, which is still being written."
The tremendous achievement of opening The Smith Center makes it all the more important to not only sustain, but also grow the center moving forward, Neel believes.
This is one of many reasons Neel has taken on the role of vice president of Development at The Smith Center, a nonprofit organization, where he will oversee strategy for fundraising initiatives and nurturing donor relationships.
Neel, who has raised funds for organizations across the country and Southern Nevada for the past two decades, takes on this role with no little ambition.
He plans to raise awareness of The Smith Center as a nonprofit among a broad spectrum of community members, as well as build funds to secure the center's future and ensure ongoing generations benefit from its many services.
"Asking good people who are already predisposed to make a difference, to be a part of something they are already passionate about, becomes very easy if we keep in mind that it is all about the donor and not about us," he explains.
A Long History with Giving in Vegas
Think of a prominent nonprofit that has made a positive impact in Southern Nevada, and odds are good that Neel has helped it generate community support.
Just a few of his past efforts include spearheading campaigns for valuable community organizations such as Faith Lutheran Middle School and High School, Make-A-Wish of Southern Nevada, St. Jude's Ranch for Children, The Shade Tree and the University of Nevada, Las Vegas Football Foundation. He even oversaw the capital campaign for Bishop Gorman High School's new campus, and served as Chief Finance and Development Officer with The Animal Foundation.
All of these efforts reflect Neel's longstanding love of Southern Nevada, where he became a full-time resident in 2016.
"I made many wonderful friends and relationships over that time (working here), and so I knew what I was getting into when we made it official to move here," he says, referring to himself and his wife, Lee. "It already felt like home, and we have loved every minute of it."
His vast career as a fundraiser seems predestined.
After establishing a promising career in international finance and investment banking decades ago, he was recruited to chair some fundraising efforts for nonprofits he was involved with. This sparked a surprising passion that soon led him to a dramatic career change. He left Wall Street to rise in the ranks of one of the nation's largest fundraising consulting firms, then eventually launch his own national nonprofit consulting firm.
"The moral of the story is, be careful what you volunteer for," Neel teases. "You never know where it may lead."
Helping Secure The Smith Center's Legacy
Neel plans to apply his extensive fundraising history to The Smith Center right away.
One of his goals is simple: To spread word across Southern Nevada of the importance of The Smith Center – and the fact that it is a nonprofit that significantly relies on philanthropic support.
"It is easy for some to view The Smith Center as only a place where incredible performances are enjoyed. But there is so much more to our mission," he says, noting how The Smith Center serves many more roles.
These include offering inspirational education and outreach efforts at no cost to schools, such as student matinees, in-school performances and classroom residencies with professional teaching artists.
With ticket sales covering only 75 percent of overall costs at The Smith Center, Neel reminds, philanthropic support provides the additional 25 percent.
"We must let the community know that it is only through their generosity that we can preserve the experience for all, and provide the programs that are making such a difference," he says.
Neel also aims to advance the Campaign to Sustain The Smith Center, targeting to double The Smith Center's endowment and ensure it continues to provide services for generations to come.
"We have a responsibility to ensure that The Smith Center is sustainable and continues to grow in its reach, not only for our children, but for our grandchildren's children and beyond," he says.
Every contribution level is welcome, he adds, noting that small and large donations alike will help ensure The Smith Center continues far into the future.
Neel lauds how generous public support has made The Smith Center's thousands of shows and its many educational experiences possible since the very beginning.
"A vibrant and growing arts community is a must in any major metropolitan area. Prior to The Smith Center, this was missing in Las Vegas," he says. "We truly are the Heart of the Arts for Southern Nevada. And we are just getting started."
LEARN MORE
To learn about how you can help support The Smith Center as a nonprofit organization, CLICK HERE.