11/30/2019
Performances and Artists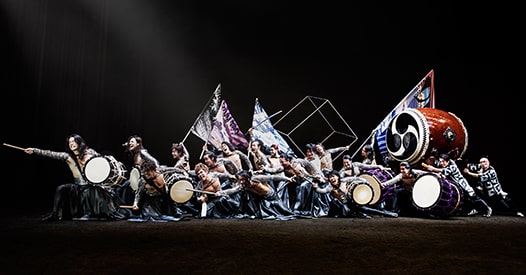 The new year marks the perfect opportunity to try new things and enrich our lives — and the performing arts can help! Enjoy a few ideas below for new year's resolutions that you will enjoy tackling. Or visit our website for a full listing of the exciting upcoming entertainment set to hit our stages.
1. Laugh More
Les Ballets Trockadero de Monte Carlo – April 9, 2022
*This show was rescheduled to it's stated 2022 date due to the COVID-19 pandemic.
Many need a pick-me-up after the holiday season, and what better way than with an evening of levity and laughter?
Les Ballets Trockadero serves this up generously, with its all-male cast performing delightful parodies of classic and modern ballets. This involves tall, brawny men performing all of the women's roles, including dainty princess and nymphs — complete with exaggerated performance foibles.
Even better, the performers hail from elite, classical training, so dance fans can still enjoy impressive technique and grace.
2. See the World
National Geographic Live! Speaker Series – Stranger In a Strange Land – August 25, 2021
*This show was rescheduled to it's stated 2021 date due to the COVID-19 pandemic.
For those with a long list of countries to visit, Jodi Cobb takes audiences on a world tour without leaving Las Vegas. Across her three decades as a field photographer with National Geographic, Cobb has worked in 65 countries on six continents. This includes becoming the first photographer to capture geishas in Japan and cloistered women in Saudi Arabia, as well as becoming one of the first photographers to cross China when it reopened to the West.
In her National Geographic Live presentation, Cobb will share stunning stories and mesmerizing photographs from her historic, global career.
3. Experience Other Cultures and Artforms
Embracing a new artform can offer refreshing inspiration — and two world-renowned performance groups return to The Smith Center this spring to provide just that.
These include:

Drum Tao – Cancelled due to the COVID-19 pandemic
This internationally acclaimed group preserves the ancient art of Japanese taiko drumming on a wide range of instruments, including O-daiko drums weighing up to 3 tons. Performing with athletic, immaculate precision, this group infuses fiery choreography and stunning costumes.
Alvin Ailey American Dance Theater – Cancelled due to the COVID-19 pandemic
Southern Nevadans can experience the latest in groundbreaking contemporary dance with the Alvin Ailey American Dance Theater. Hailed as one of the world's foremost contemporary dance companies today, it has built cultural bridges worldwide by performing for 25 million people in 71 countries.
4. Spend Quality Time with the Kids
What Do You Do With an Idea – Cancelled due to the COVID-19 pandemic.
Introducing children to the magic of live theater offers a fun chance for families to enjoy meaningful time together.
What Do You Do With an Idea, based on the New York Times best-selling book by Kobi Yamada, provides such an enchanting opportunity.
Performed by internationally acclaimed Inlet Dance Theatre, this show combines infectious original music and dazzling choreography to portray a magical world where ideas grow and take flight.
Recommended for ages 5 and older. All patrons must have a ticket, regardless of age. No babes in arms. Children under 16 must be accompanied by a parent or guardian.
5. Slow Down and Relax
Myron's Cabaret Jazz Performances
Take some time this year to sit back and forget about the world for an hour or two. Even better if you can do so while enjoying handcrafted cocktails and lite bites, while listening to top musical artists from around the world.
You can enjoy just that at Myron's Cabaret Jazz, The Smith Center's intimate, 240-seat venue hailed as the top space in Las Vegas to enjoy performers up close.
Just a few upcoming artists include multiplatinum pianist Jim Brickman, Supremes cofounder Mary Wilson, the Doo Wop Project featuring six acclaimed Broadway performers, chart-topping classical vocalist Paul Byrom, and many more.
Click here to view all upcoming performances and to purchase tickets.