11/21/2018
Performances and Artists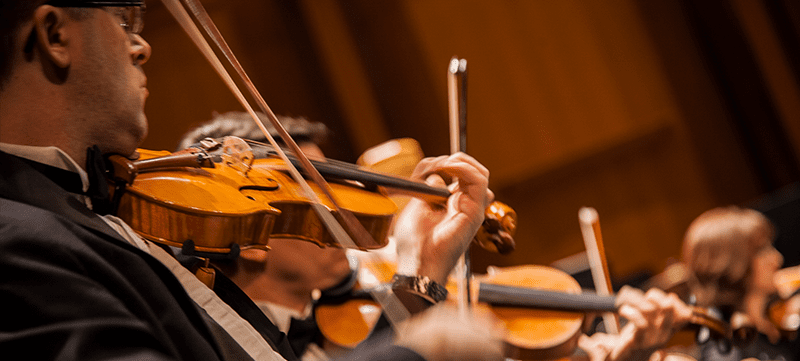 Las Vegas Philharmonic Holiday Show to Feature Seasonal Favorites and Acclaimed Vocalists
As guest conductor for the Las Vegas Philharmonic's holiday show on December 1 at The Smith Center, Dick McGee is the first to point out that the show will cover a lot of festive ground.
"We're trying to do something for everybody," explains McGee, an acclaimed Las Vegas conductor and musician, as well as professor of fine arts at the College of Southern Nevada. "People want to hear their favorite carols, but we're also trying not to do the same thing every year."
That's why this holiday hodgepodge will feature a smorgasbord of seasonal music with a variety of guest performers, including the Las Vegas Master Singers and celebrated vocalists like Kristen Hertzenberg (former star of "Phantom – The Las Vegas Spectacular" at The Venetian) and Travis Cloer (former star of "Jersey Boys" at Paris Las Vegas).
"I'm really excited about working with these folks," McGee says. "They're professionals in every sense of the word. They can sell a song through the quality of their voice and their phrasing like you've never heard."
Showcasing vocal talent also offers a nice mix with instrumental melodies, he adds.
"That creates variety in a way the orchestra can't by itself," McGee says. "You need to have vocal soloists to do lots of fun things."
Songs That Span the Season
No audience will find a lack of fun things in this show's repertoire, which spans traditional holiday fare like Leroy Anderson's "Sleigh Ride" and Irving Berlin's "White Christmas," as well as contemporary hits like "Santa Baby."
The performance will also feature songs arranged by acclaimed Las Vegas resident and performer Nathan Tanouye, plus melodies celebrating all festive holidays, like Jeff Tyzik's "Hanukkah Suite."
McGee notes that his favorite tunes of the show include the John Williams piece, "Somewhere In My Memory," from the feature film "Home Alone."
"It's a personal favorite of mine," he says. "I like the lyrics, it's a simple message of the things that make Christmas special in childhood. And I'm a huge John Williams fan – I love his movie music."
The show will also include a short sing-along that McGee assures will "send everyone out with a nice, warm and fuzzy feeling."
He feels confident audiences will experience a comprehensive taste of the season.
"We want people to go away feeling like they've had a full meal, without being overstuffed," he says.
This performance was a part of the Las Vegas Philharmonic's 2018-2019 season.