4/2/2019
Performances and Artists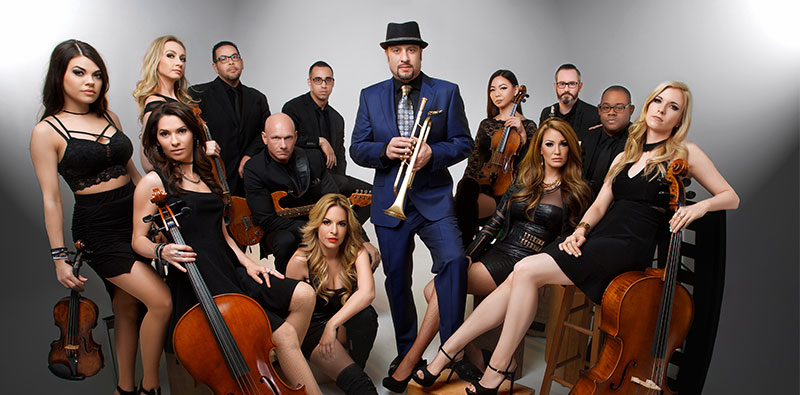 Top Vegas Headliners Bring Their Showmanship to The Smith Center
Singer-songwriter Michael Grimm fielded performance opportunities across the U.S. after winning season five of hit NBC show "America's Got Talent."
But there's just one place where Grimm wants to live and perform now: Las Vegas.
And The Smith Center tops his list of favorite venues, he says.
"Las Vegas is more of a melting pot than any other city," explains Grimm, who has performed with stars like Stevie Nicks. "There are people from all over America and all over the world, and that's the kind of audiences that I get here, this balloon of cultures. I absolutely love that."
Southern Nevada audiences can enjoy Grimm's roots and blues stylings regularly at Myron's Cabaret Jazz, the intimate, 240-seat space at The Smith Center hailed as the best room in Vegas for experiencing live performances up close.
Grimm isn't the only renowned artist routinely performing at The Smith Center.
Reflecting the impressive entertainment talent in Las Vegas' own backyard, many popular headliners who call Sin City home often take the stage at Myron's Cabaret Jazz.
"I'm very excited to be playing that room," Grimm says. "It's so intimate, it's just up close to the music."
Check out more Vegas favorites below who audiences can catch regularly at Myron's Cabaret Jazz.
Frankie Moreno
As inherent to Vegas as neon lights and all-you-can-eat buffets, singer and virtuoso multi-instrumentalist Frankie Moreno has built a loyal following both through his electrifying stage presence and his infectious renditions of pop standards and sizzling originals. With Moreno never playing the same set list twice, audiences know to expect only his explosive energy, whether with him playing piano upside down or sashaying across the stage.
"Every show, we just try to beat the last show," Moreno says.
Michelle Johnson
Whether she's paying homage to musical greats like Carole King and Ella Fitzgerald, or belting her own fresh originals, Johnson blazons her vocal pedigree that spans performing on Broadway and appearing with icons such as Gladys Knight, Paul McCartney and Barbra Streisand.
"What motivates me is reaching people through tone and sound, really stripping away the differences between us," she says.
David Perrico
Never failing to pack the seats at Myron's Cabaret Jazz, acclaimed trumpeter David Perrico shatters musical boundaries with his wildly popular Pop Strings Orchestra. Tackling musical stylings spanning big band, Latin, Disney, pop hits and Perrico's original compositions, this gifted ensemble of virtuoso strings, horns and rhythm reimagines musical traditions with its energizing stylings.
The Lon Bronson Band
Rocking Las Vegas for nearly 30 years, Emmy-nominated Lon Bronson and his 14-piece funk, rock and soul band maintains a powerful draw for Southern Nevadans.
Known for its exceptional level of musical prowess, the group features an all-star ensemble of Vegas' most accomplished musicians. The band has performed with world-class artists such as Huey Lewis and The Temptations, and was even featured in its own HBO special.
Clint Holmes
Nominated for two Grammy Awards in 2018, Clint Holmes remains a beloved headliner not only in Vegas, but across the U.S. Celebrated for his masterful interpretations of cherished standards and classic popular hits, Holmes has performed in the country's top venues, including Café Carlyle in New York City.
Holmes always enjoys taking the spotlight at Myron's Cabaret Jazz, he says.
"There's only one reason to come here, and that's the music that you hear and the way it's presented and the ambiance you sit in," he says. "That's why this room is unique."
LEARN MORE
To learn more about upcoming shows with these Vegas favorites and more, CLICK HERE.