11/23/2020
Discovering The Smith Center / Retrospective Series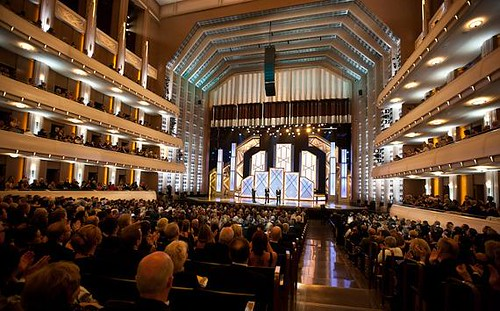 March 10, 2012 marked one of the most significant concerts in Las Vegas history, when an exhilarated crowd of civic leaders, elected officials and prominent community members gathered for the opening night concert at The Smith Center.
"This was so much more than just a concert," says Myron Martin, Smith Center president and CEO. "This was the culmination of nearly 20 years of hard work and sheer determination to give Southern Nevadans the world-class performing arts center they deserve."
Most of those present that night had played a role in the center's opening.
The crowd that exchanged congratulations in the Grand Lobby included those who provided government support, the project's visionary team members, experts who designed and planned the building, and numerous organizations and individuals who contributed as donors.
For many Las Vegas natives, this concert fulfilled a lifelong hope of seeing a leading performing arts venue apart from the Strip to serve the residents of their beloved city.
To mark the occasion, the event's pins and programs displayed "I Was There" — the theme of the night.
"There is something transformational about performing arts centers like this — even more so here in Las Vegas," says Michael Yackira, Smith Center board member and prominent donor,  looking back on opening night. "To have a place that is for us, for locals, that can bring the entertainment of places like Broadway for people to take part in, it's phenomenal."
Worth the anticipation
The evening provided an experience worthy of the decades of anticipation.
Filmed for nationwide broadcast by PBS, the historic concert showcased stage-and-screen stars from across music, theater and dance — featuring the wide range of performance styles The Smith Center would go on to present each year.
"Opening night is something I will always remember," Yackira says. "The amount of entertainment that was here, coupled with seeing The Smith Center in its glory for the first time, was incredibly memorable."
Emmy-winning television star Neil Patrick Harris served as the event's master of ceremonies, invoking his characteristic charisma to introduce the dazzling lineup.
The concert included performances by Oscar winner Jennifer Hudson, country legends Willie Nelson, Merle Haggard, Emmylou Harris and Martina McBride, along with iconic singer-songwriter Carole King and multi-Grammy-winning trumpeter Arturo Sandoval.
Rock stars such as John Fogerty and Train frontman Pat Monahan also took the spotlight, plus virtuoso violinist Joshua Bell and prominent gospel singer Mavis Staples.
American Ballet Theater dancers Marcello Gomes and Luciana Paris also swept across the Reynolds Hall stage.
Numerous acclaimed Broadway and television stars further showcased their vocals, including Cheyenne Jackson, Tony winner Brian Stokes Mitchell and Laura Osnes — each of whom later returned to perform again at The Smith Center — as well as Sherie Rene Scott, Montego Glover and Benjamin Walker.
The night even featured these entertainment greats in rare collaborations, including Sandoval and Bell on an electrifying trumpet-violin duet, as well as King and Staples pairing up for "You've Got a Friend." Hudson, McBride and King performed a stirring rendition of "Natural Woman," and Nelson, Haggard and Harris joined up for Haggard's county staple "Ramblin' Fever."
Las Vegas native Janice Allen, one of The Smith Center's 57 Founders who believed the center provided exactly what Las Vegas needed to become an arts-rich city, still remembers shedding tears of joy the entire evening.
"To be a part of this unbelievably beautiful auditorium was breathtaking," Allen says.
Take Care of This House
Not everyone who took the stage performed.
Myron Martin encouraged Fred Smith to take center stage in recognition of his making the center possible.
As chair of the Reynolds Foundation, Smith had contributed a total $150 million to open the center. The now-late Fred W. and Mary B. Smith serve as The Smith Center's namesakes.
Before the final curtain fell, Hudson concluded the evening with a stunning performance of "Take Care of This House" from musical "1600 Pennsylvania Avenue."
Backed by a full orchestra and choir, she belted lyrics that took on new meaning in the spacious Reynolds Hall: "Take care of this house, be always on call, for this house is the hope of us all."
The Road to Reopening
Due to public health and safety guidelines during the pandemic, The Smith Center has cancelled or postponed over 350 performances totaling more than $20 million in lost revenue.
As a nonprofit, The Smith Center needs community support now more than ever.
To help open The Smith Center's doors again, click here to support our Road to Reopening Fund.