1/5/2021
Education and Outreach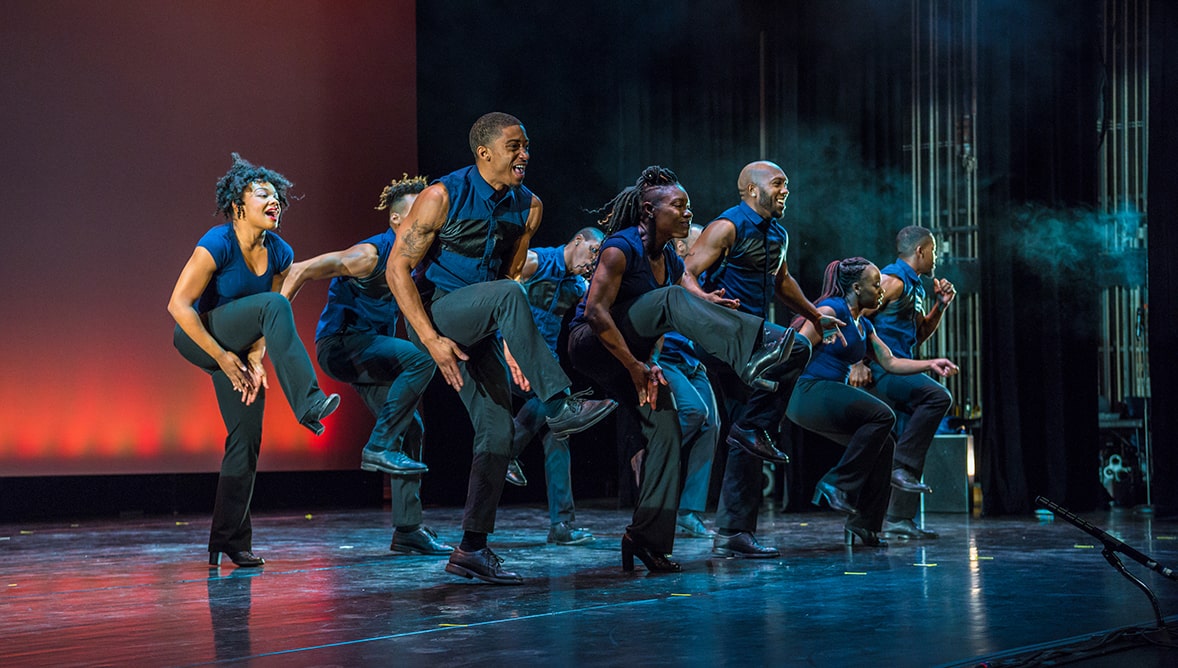 As the choir director at KO Knudson Middle School, Amy Symes is a big proponent of the arts in education.
"Integrating the arts in the classroom teaches kids important life skills and shows them how well-rounded education can be," says Symes. "When kids are given the chance to take charge of their own education through the arts, they get excited by that."
That's why Symes recently jumped on the chance to have her choir students participate in "Five Days with Step Afrika!", the second of The Smith Center's virtual student matinee performances for the 2020-2021 school year.
Step Afrika! is the world's first professional company dedicated to the tradition of stepping, a polyrhythmic, percussive dance form that uses the body as an instrument. "Five Days with Step Afrika!" was created by the award-winning company to support the current academic environment as well as address the challenges of virtual learning.
"Watching the live performance by Step Afrika! allowed my students to go beyond their usual choir instruction and explore one of the most artistic dances in today's culture," says Symes, adding that it was heartwarming to see how well her students engaged with the energy of the performers.
"Some of the kids even got up and danced around their rooms," she says. "It was a real boost for them."
Forging Deeper Connections with Students
Symes says that a real benefit of the virtual Step Afrika! performance was the chance it afforded her to get to know her students on a more personal level.
"It's sometimes hard to have a personal connection with distance learning, especially when you haven't met most of your beginning students in person yet," explains Symes. "Having the opportunity to share the Step Afrika! performance was a really powerful way to help these students be more invested."
Symes showed her students the collection of "Five Days with Step Afrika!" videos over a period of two days and utilized the variety of teacher resources that was provided to introduce and deepen the experience for students. 
"The quality of the performance was impressive, and the videos were organized in a way that made it easy to stop and talk about them," says Symes.
Like The Smith Center's first virtual student matinee, "SUGAR SKULL!", the "Five Days with Step Afrika!" virtual matinee was offered to teachers and young audiences at no cost thanks to the generous support of donors. 
"With our school being very socio-economically diverse, it's wonderful that these programs are provided at little to no cost," says Symes. "We're so grateful for what The Smith Center has done for our school and for the kids who might not have ever had the opportunity to experience a live performance."
An Eager Advocate for Arts Integration
When she's not teaching, Symes is a nationally recognized speaker on the benefits of arts-based teaching methods.
"It's all about the arts for me," says Symes. "When students get to work with people from various backgrounds and see things they might not otherwise see, it's truly magic."
In 2019, Symes was a presenter at the annual ConFABulation Summer Institute hosted at The Smith Center that brought hundreds of educators together to learn about groundbreaking, arts-based teaching methods.
She says that she can't wait for the day when The Smith Center reopens for student matinees, master classes, Broadway shows and other events, which she regularly attends.
'Having The Smith Center here is pretty phenomenal for an educator because it gives you so much more to offer your kids," says Symes. "I truly believe that I wouldn't be the teacher that I am without The Smith Center."
The Smith Center's third virtual student matinee, "Black Violin," will be offered this month.
For more information about The Smith Center's education and outreach programs, click here.