9/27/2018
Broadway Las Vegas / Community Impact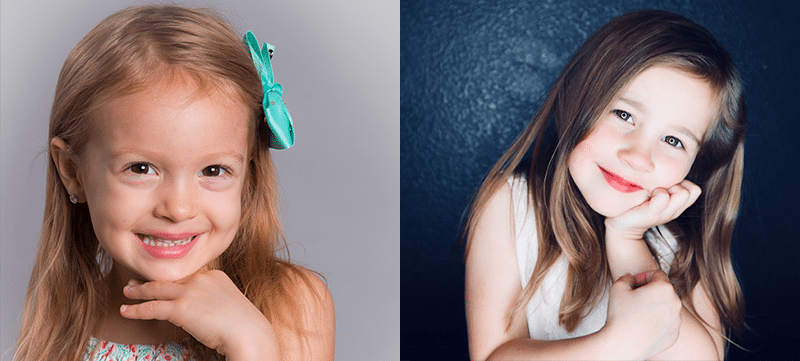 Two talented, Las Vegas 5-year-olds have been chosen to play a role in Broadway musical "Waitress" during its engagement at The Smith Center from October 9 to 14 – and both girls are just the latest in their families of performers to take the spotlight.
Following recent auditions for local girls that the touring show held at The Smith Center, the "Waitress" tour has selected Adelaide Babcock and Melina Biltz to play the child role of Lulu.
Both girls, who will alternate playing the role for different performances, hail from families that have performed in iconic Las Vegas Strip shows and even on Broadway.
"We see this as just the beginning of a lifelong journey in the performing arts for Melina," says her mother Magalie Biltz, who performed as an acrobat in Cirque du Soleil's "Mystère" for many years. "Though we are not surprised, it is happening unexpectedly early in her life."
Broad Entertainment Experience in Five Years
It's natural Melina's family shouldn't be surprised.
Melina has been immersed in the entertainment industry all her life, with her father Justin performing as a character actor in "Kà" at the MGM Grand, and Melina's 7-year-old brother Logan dancing and tumbling in "The Beatles LOVE" at The Mirage.
Plus, her grandparents perform in the circus company "Les Arenos" across Europe.
"She's probably seen more shows in her five years than most people see in a lifetime," Magalie says. "Melina was already asking for quite some time to be in a show just like her brother."
Melina has already gotten a head start by dancing at The Rock Center for Dance in Las Vegas, training in gymnastics and even shooting a commercial for PediPed footwear that involved dance, acrobatics and acting.
The girl described the Lulu audition at The Smith Center as "the best day of her life," her mother says.
"She's very excited to finally be on stage performing and making people happy," Magalie says.
A Natural on Stage
Showbiz also runs in Adelaide's family.
Her father Greg is a drummer in "Human Nature" at The Venetian, and has toured with the likes of Edgar Winter and Dave Mason. Her 11-year-old sister Charlotte recently acted in a theater production at the University of Nevada, Las Vegas.
Her mother Sharryn, a lifelong performer, has toured the world with Australian music group The Wiggles and even performed with the group at the prestigious Beacon Theatre on Broadway.
Sharryn has also served as a teaching artist for The Smith Center's Disney Musicals in Schools program, helping local elementary schools create their own theater programs.
"It gives our girls a comfortable influence when it comes to being on the stage, only because they've been around it," Sharryn says. "Every time I see our girls on stage, my heart just melts."
She isn't surprised that Adelaide landed the Lulu role, after bounding eagerly into the auditions.
Adelaide not only studies dance, acting and singing at Gotta Dance studio in Las Vegas — which her mother runs — but has also modeled in Dillard's fashion shows.
Sharryn is thrilled that The Smith Center brings Broadway productions like "Waitress" to Las Vegas, she adds, providing opportunities like this for local young performers.
"Adelaide is so lucky to have this. It will help her in anything she wants to do in life," Sharryn says. "She will soak up everything while she's on stage. She won't want to come off!"
"Waitress" was a part of the 2018-2019 Broadway Las Vegas season.