8/14/2018
Education and Outreach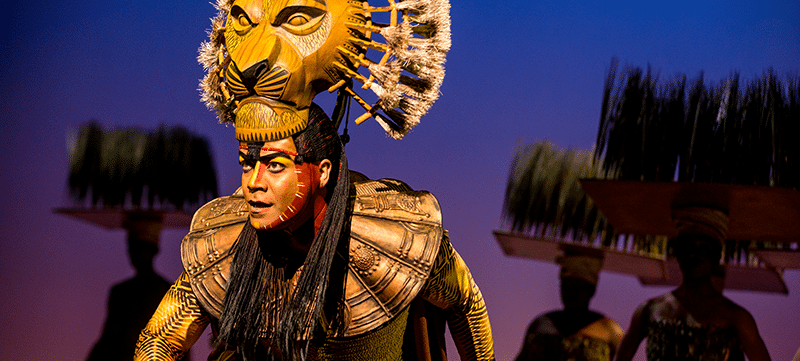 Sensory-friendly performance designed for audiences with special needs
For many of his years as production stage manager with "The Lion King" national tour, Matthew Shiner had to get creative with showing the production to his son on the autism spectrum.
"I could bring my son to rehearsals, but we would never quite go to performances," Shiner says. "You never know how your child (on the autism spectrum) is going to respond in a new situation and a new location, and 'The Lion King' as a show can be sort of overwhelming."
Many families with members on the autism spectrum or with disabilities might feel reservations about going to the theater, uncertain how their family members will respond or fit in with other theatergoers.
That's why The Smith Center is working with "The Lion King" national tour to present a special sensory-friendly performance of the production at 2 p.m. on Saturday, November 17.
This marks the first time The Smith Center will ever present a sensory-friendly performance of a Broadway production.
Designed to accommodate audience members on the autism spectrum and with other special needs and disabilities, this sensory-friendly performance will offer a safe and welcoming environment for all.
"No matter their disability (or sensory sensitivity), this offers a safe environment for individuals to enjoy a show with their family," Shiner says. "It's for anyone who may not feel comfortable coming to a normal performance, whether because of mobility issues that require extra attention, or developmental issues where their reaction to a show might be very vocal."
What a Sensory-Friendly Broadway Show Entails
The sensory-friendly performance of "The Lion King" is basically the same as a regular performance, except "we just bring the show down a tad," Shiner says.
That includes lowering any jarring sound effects and bright lights, to accommodate those with sensory sensitivities.
The house lights will also remain on throughout the show, so audience members can feel free to stand or take breaks in the lobby, where The Smith Center will provide designated quiet areas.
"Any large musical can tend to be loud and overwhelming," Shiner says. "This allows people to enjoy the whole experience, without being shaken out of it."
The Smith Center will also provide a pre-visit guide for ticket holders, so families can know just what to expect at every step of their visit.
Shiner has seen elated reactions from families attending sensory-friendly performances of "The Lion King" across the U.S.
"It's very emotional for those of us who work on the show," he says. "You get this raw emotion from these families and kids who may not have experienced something like 'The Lion King' before."
The Smith Center Embracing Sensory Friendly
"The Lion King" isn't The Smith Center's first time entering the sensory-friendly world.
The Smith Center received overwhelmingly positive responses after presenting its first sensory-friendly performances in April 2018 of family show "Shh! We Have a Plan."
"I sat and wept tears of joy as I attended my first event designed and supported for my 32-year-old, special-needs son," says audience member Marie Wallace. "I didn't have to worry if he was making noise or flapping. I am so grateful for the trained staff and their attention to all of my son's and his peers' needs."
Audience member Steve Hollingsworth says his daughter, who is on the autism spectrum, was so excited by the performance, she acted it out with her toys at home.
"We are always looking for events that help to add to our family's lives, and this was an event that we will forever remember," Hollingsworth says.
Providing a Theater Experience for All
These responses are just why The Smith Center has chosen to present sensory-friendly shows, says Candy Schneider, vice president of Education and Outreach.
"One of The Smith Center's ongoing goals is to make the performing arts accessible to all, and sensory-friendly performances play an important part of that," Schneider says.
The Smith Center presented a sensory-friendly performance of "The Lion King" as a part of the 2018-2019 season.
Photo Credit: Gerald Ramsey as "Mufasa" in THE LION KING North American Tour. Disney. Photo by Matthew Murphy.