4/29/2020
Supporting the Arts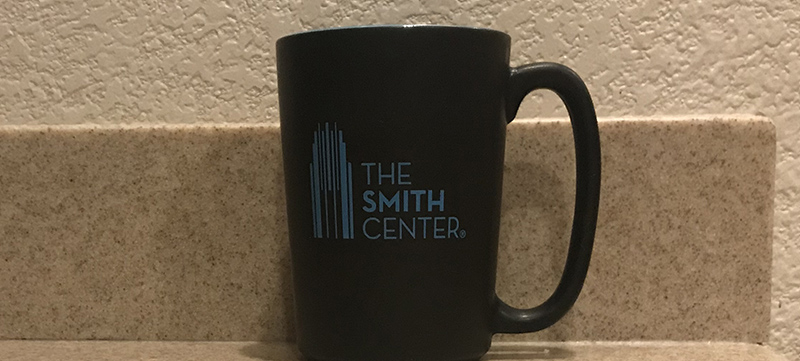 If you're among those who have generously supported The Smith Center through a donation of $500 or more, then you are probably the proud owner of a commemorative Smith Center mug. Made of ceramic and featuring The Smith Center logo, your mug might be useful for toasting The Smith Center with your coffee each morning, or for serving as a reminder of your favorite shows every time you drop your best pens inside it.
However you use your Smith Center mug, we invite you to take a photo of you and your mug and share your "mug shot" with us by emailing us at [email protected]. While you are at it, we'd also like you to tell us about your favorite Smith Center memory. Was it being among the first to see an award-winning Broadway show on its national tour, listening to a pop legend performing in the intimate setting of Myron's Cabaret Jazz, or watching your child witness the power of the arts for the first time through a sensory-friendly performance?
We at The Smith Center want to hear from you, our valuable supporters who help ensure our ticket prices remain accessible to all, our education and outreach programs impact students and teachers across Southern Nevada, and our three venues present performances that engage, educate and entertain our diverse audiences.

Over the next few weeks, we'll share some of your great photos and experiences across our social media channels, as a way of building excitement and hope for the time when we can all be together again. Don't delay — show us YOUR "mug shot" today!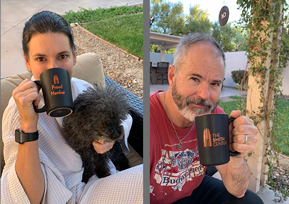 Krista and Rick Darnold, long-time donors, jumped right in with a shot of their morning coffee on a rush-hour-free day and some comments on Smith Center memories through the years.
Krista notes:
There have been so many extraordinarily fun experiences over the last eight years that we've had on The Smith Center campus and we cannot wait for more to come…soon!"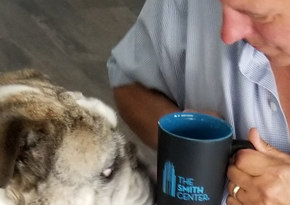 Members Doug & Lari Fielding (and Oliver) shared a fun moment with their mug, and mention how they are "Looking forward to making new memories at The Smith Center."
Not a Member yet and interested in learning about the benefits? Click here to learn more.