9/7/2020
Discovering The Smith Center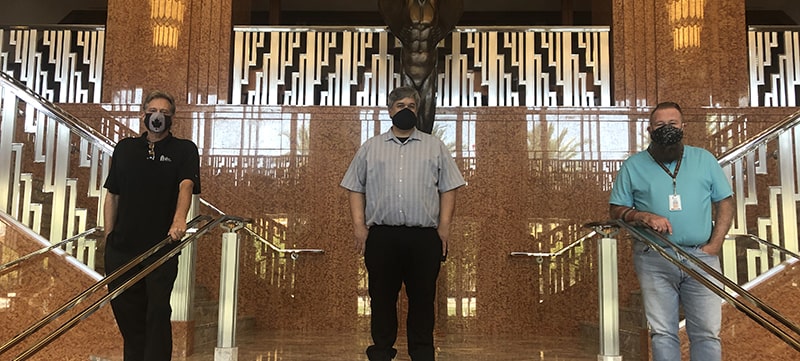 While the coronavirus pandemic has forced The Smith Center to send employees home and cancel all performances through December, a skeleton crew still remains on site to keep the building safe and operations running smoothly.
In light of the Labor Day holiday, The Smith Center points the spotlight on these hard-working team members.
"From widespread cleanings and necessary repairs, to emergency systems maintenance and monitoring of operating systems, there is no shortage of everyday tasks to be done, even with little occupancy," says COO Glenn Medas, adding that all Smith Center team members follow current health guidelines to ensure their own safety while on the job.
Cleaning Top to Bottom
Mark Maddox, housekeeping manager for The Smith Center, says his small team has been working daily to conduct campus-wide disinfecting that spans every room.
"We've always had a clean building, and The Smith Center is nothing short of sparkling now," says Maddox.
With new, state-of-the-art electrostatic sprayers, the team is now able to reach all surfaces – even those hidden from the eye – to help ensure the safety of Smith Center staff and patrons.
The center's housekeeping team has also been able to shampoo every seat and standalone chair throughout the 2,050-seat Reynolds Hall theater, as well as clean all the facility's carpets.
"We've definitely been going above and beyond the CDC's recommended cleaning procedures," says Maddox.
Engineering for Safety
Cleaning isn't the only way The Smith Center's skeleton crew is keeping the building safe.
Robert Gatewood, chief engineer for The Smith Center, says his team is also helping to ensure safety by paying careful attention to the campus' heating, ventilation and air conditioning (HVAC), with temperature regulation another important aspect of supporting guests' health.
Since March, Gatewood says projects like the cleaning and servicing of air handler units and replacing filters have been a priority.
"It can be tough with a skeleton crew, but we're committed to keeping The Smith Center safe and in top shape," says Gatewood, adding that the team faces an added challenge by needing to continually find ways to reduce operating costs during the extended closure.
Since the building closed in March, Gatewood's engineering team has completed as many as 15 preventative maintenance and repair projects, and Gatewood says the list never stops.
Other ongoing projects for the engineering team include the testing and servicing of fire life safety and sprinkler systems, the replacement of a heat pump compressor replacement and the trimming of the center's palm trees.
"You name it, we cover it all," says Gatewood.
Developing New Theater Protocols
Smith Center Technical Director John Trace says he's been keeping busy meeting regularly with the various trade unions to discuss new industry protocols for Covid-19.
"The ideas change weekly, as we need to consider everything from hair and wardrobe to doors and ventilation," says Trace.
When he's not talking with trade unions, Trace says he's personally monitoring theater equipment and making sure computers that control functions like audio, video and electric are fully operational.
Trace is especially proud of the total refinishing of the stage in Reynolds Hall, which was completed just before much of his team went on furlough.
"We rarely get the required window of time to take care of these kinds of things that can greatly enhance the entertainment experience," says Trace.
A Building in Pristine Condition
COO Medas says the entire team can't wait to welcome patrons back to such a flawlessly cleaned and well-maintained building.
"The Smith Center is in great shape right now, thanks to the tireless efforts of our skeleton crew," says Medas, adding that the building will be more than ready to welcome back patrons and performers when the time is right.
"It will be a proud moment to be able to bring back the arts in this amazing facility," says Medas.