7/28/2020
Education and Outreach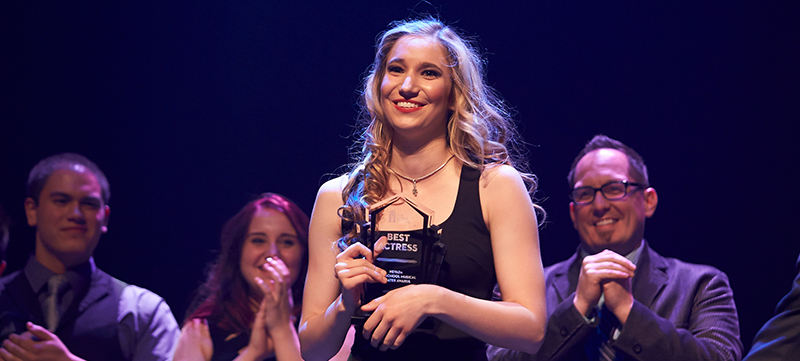 Brooke Solan still remembers how nervous she felt before participating in The Smith Center's second-annual Nevada High School Musical Theater Awards (NVHSMTA) in 2014.
"Would I be good enough? Did I even have a chance of winning? Would I have fun and make friends? All these questions and more ran through my head," recalls Solan, now 23.
She didn't need to worry.
In fact, Solan became the second Best Actress winner of the center's annual NVHSMTA, allowing her to compete on Broadway in the National High School Musical Theater Awards, the Jimmy Awards.
There, she earned her place as a finalist among the country's top young performers.
"That was actually the biggest highlight of my life," she says.
Now a professional actress and vocal coach, Solan confirms these experiences significantly shaped her performing and gave her the confidence to chase her dreams.

"(The NVHSMTA) was really one of the first doors open to young students from Nevada into the professional theater world," says Solan, who lived in New York City prior to the pandemic, and currently lives in Las Vegas. "I can't even begin to say how incredibly valuable that is."
The Chance of a Lifetime
Performing since 7 years old, Solan says The Smith Center's NVHSMTA provided "the biggest opportunity I had ever received to pursue my dream of performing in New York."
As a nonprofit, The Smith Center created this annual event to showcase solo performances by the state's top musical theater students.
It serves as Nevada students' only opportunity to qualify for the national Jimmy Awards in New York City.
Now expanded to highlight all talents involved with high school musical theater productions, this program groomed Solan to showcase her talents.
Going through one-on-one coaching — as well as befriending fellow performers — helped Solan deliver a powerhouse solo, "Bride's Lament" from "The Drowsy Chaperone," on The Smith Center stage.
"To this day, it is the biggest and most beautiful theater I have ever performed in," she says.
When she heard her named called for the Best Actress award, "it meant everything I'd been working toward was worth it," she adds. "It meant that I was on the right path to achieving my lifelong dreams."
Making It on Broadway
Competing in the national Jimmy Awards opened many doors for Solan's future.
A several-day experience, the awards program includes training with Broadway professionals.
Solan made a strong connection with her vocal coach, Broadway actress Julia Murney, who continued to mentor Solan for years.
"She coached me on my college audition songs, too, and I ended up going to her alma mater, Syracuse University, for musical theater," Solan says. "It was amazing to get her insight and advice throughout my four years there."
Solan also built important connections with other performers.
"I've seen my fellow Jimmy Awards performers at many auditions, and it's always so nice to see a friendly, familiar face," she says. "English Bernhardt, who was in my Jimmy Awards medley, was recently cast in the national tour of 'Mean Girls,' which was so exciting to see."
Above all, Solan found all of her hard work validated when she performed a solo — "Will He Like Me?" from the musical "She Loves Me"¬ — at the Minskoff Theatre on Broadway as a Jimmy Awards finalist.
"I took some giant, deep breaths and told myself, 'this is more of a win than I ever even imagined,'" she says.
A Working Professional
Solan went on to perform in a variety of productions at Syracuse University, including playing the lead in musical "Crazy For You," where she dived into a challenging role rife with comedy, singing and dancing.
"It was an empowering role to step into, and one of my favorite theater experiences to date," she says.
She now works as a professional vocal coach, allowing her to make a living with the freedom to continue auditioning for parts.
This also follows in the footsteps of the theater professionals who coached her.
"My experience performing at the Nevada High School Musical Theater Awards and the Jimmy Awards definitely solidified my interest in teaching and coaching performers," Solan says. "I cannot be more grateful to the entire Smith Center team for making this event possible."