6/30/2020
Supporting the Arts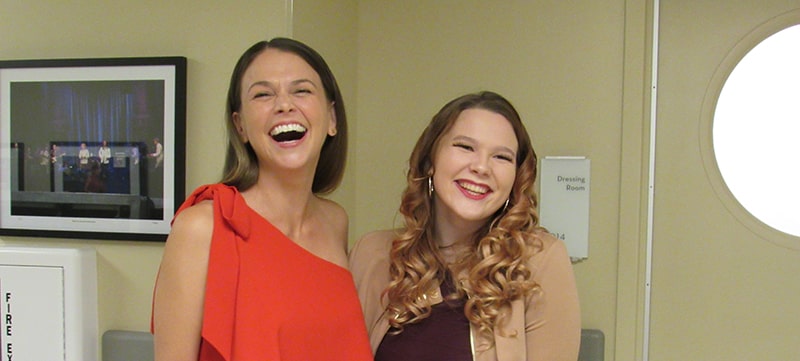 Ever since Jillian Stewart sparked an interest in theater at age 12, the Vegas resident idolized Broadway and television star Sutton Foster.
"I looked up to Sutton Foster, not only for her talent but most importantly for her character," says Stewart, a student at the University of Nevada, Las Vegas whose family supports The Smith Center as donors. "I've always admired her humble heart and eager-to-learn-and-do spirit."
Stewart experienced the Tony winner's earnest charm firsthand, when Stewart met her lifelong role model face to face at The Smith Center in 2018.
This special meet and greet for donors to The Smith Center, a nonprofit organization, included taking photos with Foster and chatting with the star before her sold-out performance.
"(Sutton Foster) was so down to earth and started telling my family and I a funny interaction she had with her kid," Stewart remembers. "It was really a dream come true to meet the person I aspire to be in theater."
Meeting Megastars
Stewart marks just one of numerous Southern Nevada community members who have made memories with entertainment icons at The Smith Center.
The Smith Center regularly arranges for generous donors to meet backstage with visiting performers from around the world, including stars from Broadway, film and television.
Donors have met with megastars such as Foster, music icon Michael Bolton, comedy legend Bob Newhart, stage-and-screen star Kristen Chenoweth, 16-time Grammy nominee Brian McKnight and Mike Love from The Beach Boys.
"Throughout The Smith Center's eight years, our donors have helped us bring a wide variety of performances to our three theaters, as well as introduce the arts to students across Southern Nevada," says Emma Durant, senior gift officer. "Because many of our donors have a deep love for the performing arts, these meet-and-greets provide a special way to show our appreciation."
Star-Studded Memories
Smith Center donors Tony and Renee Marlon look back fondly on meeting vocalist Jackie Evancho, who tours the world since astonishing audiences with her soaring soparano on "America's Got Talent."
"Jackie Evancho is one of our favorite artists," says Tony, a Las Vegas physician. "She has a stunning voice."
After growing up listening to Michael Bolton, donor Bryan Cohen describes it as "quite a treat" to meet the icon in person.
"My teenage self would be jealous," Cohen says. "I was amazed at how humble he was. He was genuinely interested in how I felt the show went."