1/30/2020
Discovering The Smith Center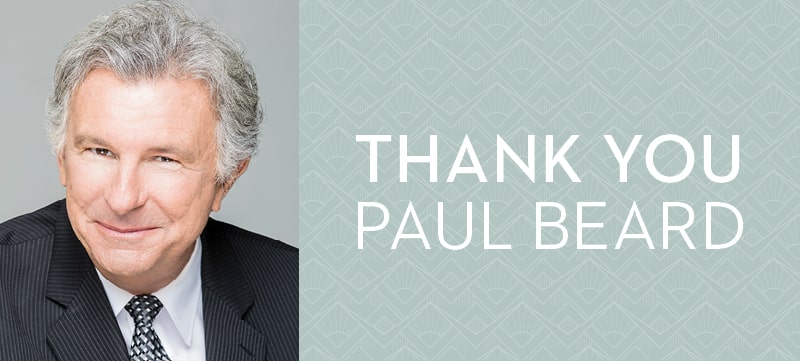 This week marks an important transition for The Smith Center's executive team.
After guiding the development of The Smith Center from the ground up, Paul Beard steps down today from his position as vice president and COO.
This doesn't signal the end of his journey with the center, however.
Beard will continue to serve as a consultant on key aspects of The Smith Center's operations.
This includes supporting the center's resident companies, Nevada Ballet Theatre and the Las Vegas Philharmonic, as well as continuing to schedule high-caliber shows for the Broadway Las Vegas® Series.
"People would often say to me, 'why are you still working?' and I'd say, 'because I have an interesting job,'" says Beard, 72. "Now I can continue to produce good results for The Smith Center, but in a different way, and then explore these other things that really interest me."
Playing a Key Role
Beard takes pride in his many accomplishments with opening and nurturing The Smith Center into a leading performing arts facility.
This includes overseeing the center's $470 million construction, and spearheading its organizational operations, including developing policies, objectives and initiatives.
"I'm really proud of this project (of opening and launching The Smith Center)," he says. "I think in every significant way it's an exemplary performing arts center."
Beard brought decades of experience in the performing arts industry to his role.
Prior to joining The Smith Center, Beard opened and successfully operated the Madison Civic Center in Madison, Wisconsin, the Kravis Center in West Palm Beach, Florida, and Bass Performance Hall in Fort Worth, Texas.
This exemplary record is why over 10 years ago, Myron Martin — Smith Center president and CEO and — first consulted with Beard on the center's design, then brought him on full time to serve as a leader in its construction and opening.
"Since I had the experience of (operating) three performing arts centers before, I was in my element," Beard explains.
Tapping into his industry connections, Beard also played a key role in shaping the center's Broadway Las Vegas Series into the leading program it is today, offering seasons packed with Tony-winning productions.
"There was an inherent demand that existed within the Southern Nevada population for touring Broadway productions, and we knew how to provide that," Beard says. "After I leave (as COO), I will continue to strive to perfect the Broadway Series."
All of his achievements at The Smith Center contribute to the executive team's greatest success, he adds: making the center self sustaining, through a combination of ticket sales and generous philanthropic support.
This remains a top priority for operating a performing arts center, he says, as noted years ago by Fred Smith, chairman of the Donald W. Reynolds Foundation that donated $150 million and made The Smith Center's opening possible.
"He said, 'there's no point in building it, if you can't afford to run it,'" Beard says.