5/25/2018
Community Impact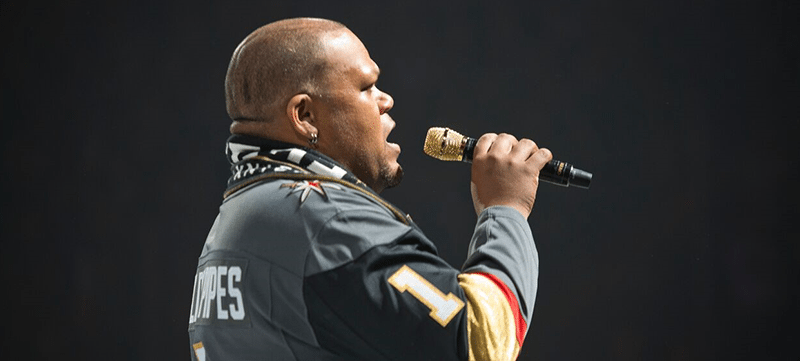 A historic night approaches on Monday, when the Vegas Golden Knights takes on the Washington Capitals in the 2018 Stanley Cup Final.
And kicking off this long-awaited battle on ice will be the masterful vocals of Carnell Johnson, aka the Golden Pipes, who performs his powerful rendition of the national anthem before each Golden Knights game.
Believe it or not, Johnson isn't just associated with Las Vegas' first pro-hockey team – he has strong ties with The Smith Center team, too.
Not only is Johnson one of The Smith Center's longest-serving ushers, he also performed at the center's opening night in 2012 in the back-up chorus for Jennifer Hudson.
"The first time I stepped out onto that ice (at T-Mobile Arena), it was a surreal feeling," recalls Johnson, a Las Vegas native who holds a degree in music education from the University of Nevada, Las Vegas. "I've sung in front of a couple thousand people before, but never 18,000, let alone all the people watching at home on TV."
No Rookie to Performing
A professional singer for 20 years – he keeps his voice sharp in his day job as a singing gondolier at The Venetian – Johnson was among over 1,000 people who applied to become the anthem singer for the Golden Knights.
He still keeps the email he received announcing his success after a video and live audition.
Elated as Johnson was by the news, he was well aware of the pressure that came with donning his jersey labeled Golden Pipes – a moniker decided by a fan page poll.
"Those first few times (singing on the ice), I was definitely nervous. I could feel myself shaking," he says. "Especially the first time I sang 'O Canada.' I knew that I knew the song, but so many anthem singers can tell you, the nerves can get the best of you and it's really easy to mess up a verse."
Johnson now has a set process of preparation. He arrives at the T-Mobile Arena early, drinks in the atmosphere of the crowds, takes a couple laps around the concourse, then rehearses just once in his dressing room.
"(Singing before each Golden Knights game) is a very cool feeling," he says. "Being born and raised in Vegas, I appreciate how we've never had a pro team before to really rally around, and it's something we've wanted for a long time."
Big Wins for the Knights – and for Johnson
Johnson shares Las Vegas' astonishment at the Golden Knights' daunting success in its inaugural year.
"A lot of people are saying the timing was just right for them to have this amazing Cinderella story, and I couldn't agree more," he says. "To have one of the most hurtful times in Vegas' modern history and then have something so positive happen to rally around, it's the greatest feeling in the world."
Alongside the team's success, Johnson has seen his own.
Singing before each game has already led to more performance opportunities, he says.
"I've gotten calls from other charities, from Station Casinos — I'm actually singing at the world welterweight boxing match," he says. "It's definitely opened up some doors."
Through it all, he still enjoys ushering part-time at The Smith Center, he adds.
"Honestly, I love it at The Smith Center," he says. "I love the sense of family there, the interaction between the departments, so many things."
Johnson hasn't confirmed yet if he would sing during the Stanley Cup game, should the Golden Knights make it that far.
But he predicts that if the team wins, "People in Vegas will be crying, and the tears will be everywhere."