3/16/2018
Education and Outreach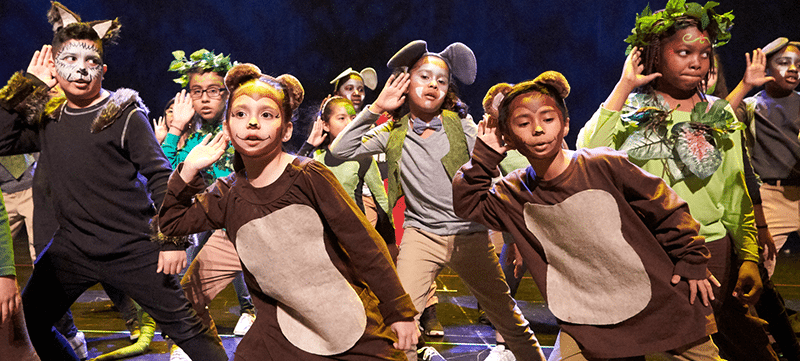 "RAWR!"
Animal cries filled the auditorium of Goldfarb Elementary in late February as scores of floppy eared monkeys and elephants poured onto the stage.
As one, they started to shimmy and sing to the opening number of Disney musical "The Jungle Book."
For most of these elementary students performing for family and friends, this was their first time ever participating in a live theater production.
That's because this marked the school's first year with The Smith Center's Disney Musicals in Schools program.
Provided at no cost to schools by The Smith Center, a nonprofit, this initiative helps elementary schools across Southern Nevada create their own sustainable musical theater programs, including putting on their first Disney musical production.
The Smith Center has provided this program to more than 30 schools, thanks to seed money from Disney Citizenship and the generous support of the Elaine P. Wynn and Family Foundation.
Goldfarb teachers Cynthia Taylor and Jennifer Weeks, co-directors of their school's first show, had been determined to bring the program to their school after experiencing its impact at another school.
"We saw so many students who just blossomed," Taylor explained. "That even includes one autistic student who barely spoke until he ended up (participating in the show), and he suddenly started reading and speaking."
A Life-Changing Impact
Disney Musicals in Schools brought the same impact to Goldfarb Elementary.
After just six months of training with Smith Center teaching artists on choreography, singing and acting, the school's staff and students succeeded in putting on multiple performances of its first musical.
The experience completely transformed the 68 Goldfarb students who participated, Taylor said.
"It's taught them teamwork, confidence, and life skills like stage presence. Things they're going to need when they get older," Taylor pointed out.
The production also brought all of the students together with a common goal, she added.
"We have so many cultures in this school, and it's just unified them as one," she said.
Goldfarb students also performed at The Smith Center during its annual Student Share event, showcasing song-and-dance numbers by the program's six newest participating schools.
Nine-year-old Francisco Montenegro, who starred as Mowgli, beamed as he described the fun of making new friends in the production. 
"The biggest thing I learned is to be who you are, and if you like the arts, keep doing it," said Montenegro, who now aspires to be an actor someday.
A Community Production
Community members unified for the show, too, with many teachers and parents lending support with creating costumes and compiling the show.
"For everybody involved, it was all volunteer, including the students, teachers and community members," Taylor said.
For students who preferred not to perform, they learned a variety of theater skills, Taylor added, like lighting, sound and creating the musical's eye-popping set.
"There are so many different aspects to the performing arts," Taylor said. "This gives them the opportunity to get a sampling of what this is like and things that they can do."
Anna Jimenez — mother of 8-year-old Grace who learned new performance skills through the show — was in tears as she watched the students perform.
"For my daughter to be on stage like that and be around her peers, I thought that was one of the most amazing things I'd ever seen," Jimenez said. "It's a once-in-a-lifetime experience."