11/20/2018
Education and Outreach / Family Programming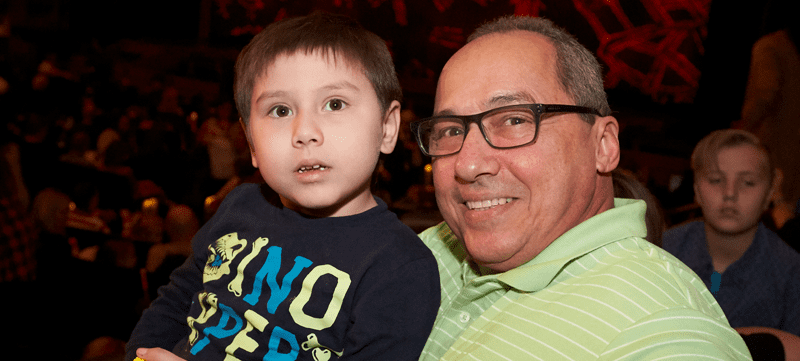 The Smith Center Makes Live Theater Welcome to All
Las Vegas resident Therese Arguelles-Luz has always wanted to take her son on the autism spectrum to a Broadway production.
But for many years, she decided against doing so.
Understandable, given that many individuals on the autism spectrum are particularly sensitive to loud noise and light. Some face challenges with breaking daily routines.
"I was skeptical if he could sit and enjoy full-length performances," Arguelles-Luz explains. "I wasn't sure if my autistic son could enjoy the shows as much, given certain conditions."
But this November, she was finally able to take her son with the rest of the family to a live theater production, by attending The Smith Center's very first sensory-friendly presentation of a Broadway production, Disney's "The Lion King."
Aimed at providing a supportive, judgement-free theater environment, this sensory-friendly performance was specially designed for those with sensory sensitivities and other intellectual and developmental disabilities – including reductions of jarring noises and lights in the production.
"I am elated," Arguelles-Luz says. "I want my son to experience life to the fullest and have him grow to his full potential. Exposing him to the beauty of theater is one of them."
Providing a Theater Experience for All
Nearly reaching a full house, this sensory-friendly show was attended by over 1,000 Southern Nevada families with special-needs members.
Some included audience members on the autism spectrum, others with physical or mental disabilities who might not otherwise feel comfortable in a traditional theater environment.
"The entire goal was to make this extremely welcoming for anyone who wanted to attend," says Melanie Jupp, senior program specialist with The Smith Center's Education and Outreach Department. "Providing this experience was something that The Smith Center was very passionate about, to show that the arts truly are for everyone."
To accommodate a wide range of needs, The Smith Center provided a special pre-visit guide for guests to help them prepare for every step of their experience at The Smith Center, from parking to finding restrooms to taking their seats.
Volunteers were on hand to assist every step of the way.
Theater etiquette was relaxed during the show, with audience members welcome to stand, move and make vocal noises as needed, as well as use mobile devices for communication purposes.
Quiet areas were available in the lobby for any who needed to take a break, with sensory objects available as a soothing measure, and certified volunteers monitoring.
Las Vegas resident Denise Robinson says her son on the autism spectrum was "thoroughly engaged" throughout the production.
Taking part in this event as a family "meant so much to all of us," she adds.
"It was so nice to be able to attend an event like this without having to hush, cover my son's mouth, or take him out because of his vocal stimming," Robinson says. "The sensory showing of 'The Lion King' was simply awesome."
This is why experiencing a sensory-friendly Broadway show is significant for families with members on the autism spectrum, says Maria Brandon, speech language pathologist with Touro University, who has consulted on The Smith Center's sensory-friendly performances.
"Families can take their children and see this performance and not worry about sensory issues going on," Brandon says. "On the other end of that, they won't worry about being judged by other people if my child is making noise, or if my child needs to get up and walk away."
A Lion's Share of Planning
Presenting this sensory-friendly performance was no simple task.
Building on The Smith Center's success with presenting its first sensory-friendly performances of family show "Shh! We Have a Plan" in April 2018, Jupp led efforts for roughly a year to plan accommodating sensory-friendly audiences for "The Lion King."
This included consulting with many community organizations, and attending sensory-friendly productions across the country.
"I found that at the heart of it all, sensory-friendly performances are really like any other show, in that friends and families want to have an enriching experience together," Jupp says.
The Smith Center's Education and Outreach Department extends its thanks to the staff and clinicians at Grant A Gift Autism Foundation, Touro University Nevada Center for Autism and Developmental Disabilities, UNLV Ackerman Center for Autism, FEAT of Southern Nevada, Nevada PEP, Opportunity Village, Sport Social, Wellman Therapy Services, Autism Coalition of Nevada, and the Center for Child and Family Development for their guidance and support throughout our planning process. We are also grateful to Bank of America for providing additional volunteer support.