10/3/2019
Performances and Artists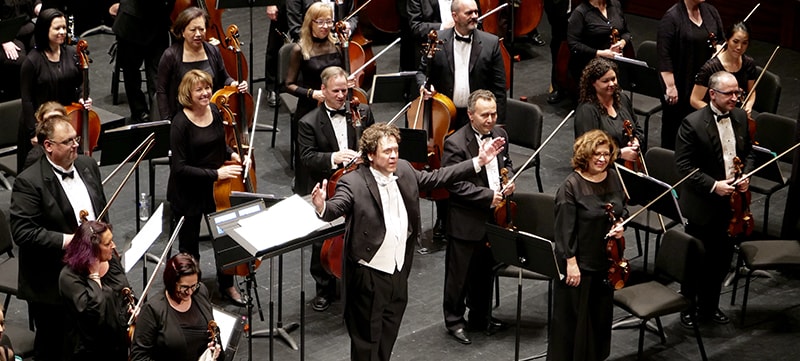 Las Vegas Philharmonic to Feature Performances by Top Vegas Entertainers
From the first time Donato Cabrera experienced the Composers Showcase at Myron's Cabaret Jazz at The Smith Center, he felt inspired to take part.
Created by acclaimed Las Vegas music director Keith Thompson, the monthly event showcases all-new, original material by gifted composers and artists who call Southern Nevada home.
"I was so blown away by all of the not-so-hidden talent in this town," says Cabrera, music director for the Las Vegas Philharmonic. "You forget that behind every front liner or headliner, there's a band, and in that band are such talented musicians, and of course they do other things like write songs."
This impacted Cabrera to the degree that he reached out to Thompson and floated the idea of presenting a similar show with the philharmonic, on a larger scale than the intimate, 240-seat Myron's Cabaret Jazz.
"Keith texted me the next day and said 'Are you really serious?' and I said 'Yes, I'm totally serious, let's try and make it work,' and that's when he got really excited," Cabrera recalls.
This followed with two years of Cabrera and Thompson painstakingly building a glittering roster of Vegas' top artists.
The result: the philharmonic's A Very Vegas Showcase concert on October 12.
This Vegas-centric show will feature performances by a broad range of entertainers who hail from Sin City. All backed by the philharmonic, these artists' prominent careers span Broadway, Carnegie Hall and more.
To round out the Vegas theme, the repertoire will celebrate famous Vegas headliners — such as Frank Sinatra and Ella Fitzgerald — as well as contemporary Vegas composers like Richard Oberacker, who composed the music for Tony-winning Broadway musical "Bandstand."
"We have one of the most unique backyards," Cabrera says of Vegas' vast pool of talent. "We're really the only town that can actually do something like this."
Vegas Performers Worth Recognizing
Many Southern Nevadans already call themselves fans of the artists to perform at A Very Vegas Showcase.
These include fiery-fingered pianist Philip Fortenberry, a Vegas gem best known for performing in Broadway orchestra pits and serving as the pianist double for Michael Douglas in HBO's Liberace biopic "Behind the Candelabra."
The evening will also feature Grammy-nominated vocalist and Vegas favorite Clint Holmes, as well as pianist Alexandria Le, whose career includes performing as a resident artist with Carnegie Hall.
The concert will also include showstopping performances by Vegas vocalists such as Eric Jordan Young, who performed in "Ragtime" on Broadway, Travis Cloer who starred as Frankie Valli in "Jersey Boys" in Las Vegas, and more.
"This is a celebration of what makes Vegas so unique," Cabrera says.
Where It All Began
Fittingly, many of the night's featured artists perform as regulars at the Composers Showcase at Myron's Cabaret Jazz.
"(This concert encompasses) exactly what we believe is so magical in the Composer's Showcase," Cabrera adds.
He refers to the thrill of witnessing great composers demonstrating their creative process. Many artists at the Composers Showcase premiere new works to gauge audience reactions.
"You're going to hear musicians share what they've created, and one of those songs might end up being one of the best songs you've ever heard in your life," Cabrera says.
"You're going to hear musicians share what they've created, and one of those songs might end up being one of the best songs you've ever heard in your life," Cabrera says.
In this vein, it's only right the concert features a piece by Vegas composer Richard Oberacker — also conductor for Cirque du Soleil's "KA" — who composed all the music for Broadway hit "Bandstand."
Oberacker first unveiled many of the production's tunes at the Composers Showcase, truly rooting the production in Vegas.
"It will always be the show that was written in Las Vegas. That's a cool thing to say," Oberacker says. "I hope that Las Vegas audiences and people who go to Myron's Cabaret Jazz and who have followed my work, that they can say, 'I'm a part of this.'