10/8/2020
Supporting the Arts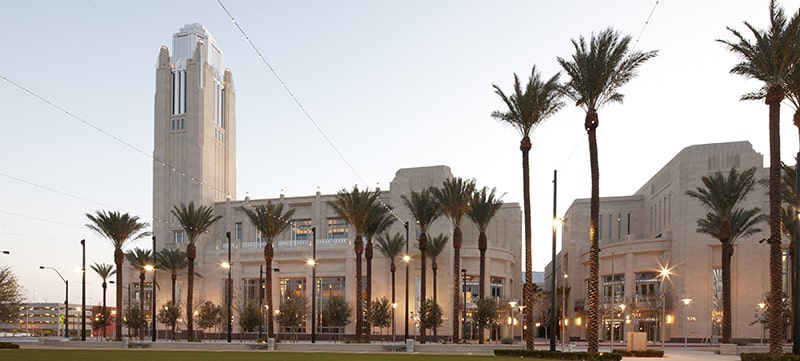 Jerry Carney says he couldn't think of any other nonprofit he'd want to support more than The Smith Center.
"I just love it there," says Carney, a Smith Center staff member who recently created a Facebook fundraiser to help raise money for The Smith Center during its extended closure.
Carney is one of several employees and friends of The Smith Center who have successfully leveraged their Facebook networks to support The Smith Center's mission, since the center was officially approved as a nonprofit eligible for Facebook fundraising in August.
"I support the arts, but more than that I believe in The Smith Center and the value that it brings to the community," says Carney.
All in The Family
Carney's history with The Smith Center dates back to 2009 when he joined the center as a front-of-house usher.
"I was part of the team that was here before the doors even opened in 2012," says Carney, who left The Smith Center briefly in 2015 but returned in 2017 to join the center's security department.
"The place is like home to me, and I have made some lifelong friendships there," he says.
Another longtime Smith Center employee, John McCoy, says his Facebook fundraiser was very well-received by family and friends who are anxious to see The Smith Center open back up.
It even inspired his own parents to make a separate donation to The Smith Center.
"Creating your own Facebook fundraiser is incredibly easy," says McCoy, who has been part of The Smith Center's marketing team since 2015.
"In addition to being easy to do, Facebook fundraisers give you the flexibility to increase your goal and adjust your donation timeline as the campaign continues for greater impact," adds McCoy.
Billy Hollatz, whose mother Carol has been a member of The Smith Center's development team since 2018, created a Facebook fundraising campaign for his 24th birthday.
"I want to see The Smith Center open back up so that I can go see my favorite show 'Hamilton' again," says Billy, who was disappointed he couldn't see the popular musical this year due to the pandemic.
Another reason Billy says he started his campaign to support The Smith Center is because it helps to provide opportunities for children to experience the live performing arts who might not otherwise get the chance.
This includes The Smith Center presenting student matinees for 80,000 students a year at no cost to schools.
"The Smith Center is such an important community resource," says Billy, who believes that exposing kids to the arts can help them find their passion. "It always makes me really happy when I see my mom raising money to make the arts accessible to all kids."
Getting Started
If you or someone you know is willing to help support The Smith Center during this challenging time in our history, you can create a fundraiser by following the easy steps on Facebook's Fundraisers page at www.facebook.com/fundraisers.
You'll be asked to provide the nonprofit you want to raise money for, the amount of money you want to raise, the date you want your fundraiser to end, and a title and description for your fundraiser.
To make it as convenient as possible, The Smith Center has worked with Facebook to pre-populate most of this information, including the insertion of a photo of The Smith Center.
"Facebook fundraising is a great way to support the causes you care about, and we all care a lot about the future of The Smith Center," says McCoy.