11/20/2019
Education and Outreach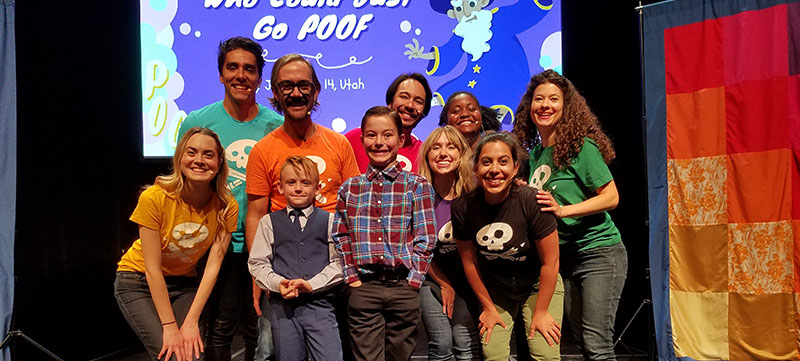 Philanthropic Support Provides 'Story Pirates' Matinees for Thousands of Students
Few elementary students can boast about authoring original works — and even fewer witness their words transformed into a live theater show.
Thanks to generous philanthropic support for The Smith Center, a nonprofit organization, Southern Nevada students enjoyed this rare experience this fall.
Over 2,600 community students attended student matinee performances at The Smith Center by Story Pirates, a national, arts-education group that adapts children's short stories into live performances. With students attending at no cost to schools, Story Pirates hailed these matinees for breaking records of the number of students in their tour's audiences.
During the group's several matinees, the performers acted out stories written by students across the U.S. – including multiple Southern Nevada students.
"I feel like the experience was validating for them, that their writing did matter, and that someone took the time to read it and think about turning it into a performance," says Neil Greenhalgh, a teacher with Jones Blackhurst Elementary School that attended a matinee.
With the group's whimsical performances incorporating song, dance and improvisation, the matinees introduced many students to live theater for the first time.
The performances also sparked a joy for writing, as all students had the opportunity to submit original stories to be considered for inclusion with the show.
"Writing is often one of the most difficult subjects for children, and also often their most disliked subject," Greenhalgh says. "Allowing students to creatively write with a greater purpose really motivated these children. Every one of my colleagues were so pleased with the field trip. It really was one of the joyful moments of teaching."
Merging School with the Stage
Through The Smith Center's support, Southern Nevada teachers attended a special workshop with Story Pirates earlier this year, focused on helping students create characters and develop a narrative.
Teachers took new tools from the workshop back to their classrooms, and guided students on crafting original, short stories to submit.
Greenhalgh felt this served a crucial purpose for teaching students lifelong writing skills.
"Imaginative writing allows students to follow the writing process with a topic that they really care about," he says. "It forced them to really dig deep into their imaginations and create. I think this is a worthwhile tool that children need today."
His favorite part of the student matinees, he adds, included seeing the students' reactions when one of their classmate's stories was selected to be performed.
"That child felt like a rock star for a few minutes, and the other students from the school were so happy for that child," he says.
Spotlighting Southern Nevada Students
Second grader Lincoln from Twitchell Elementary School will likely never forget his story being performed on stage.
His story focused on finding a Skittles-eating monster at a BMX park, which the performers brought to life using dance lifts to convey bike tricks.
"I was really proud," Lincoln says of watching the actors bring his story to life. "They made my story funnier by acting it out."
For third grader Joseph, seeing the actors perform his story about a puppy-bat helps support his dream of becoming a professional writer someday.
"I want to be a writer so I can make crazy stories and bring them to life," he says.
Las Vegas Performers on Stage
Choosing stories from Southern Nevada students thrilled Story Pirates performer Kristen Henley, originally from Las Vegas.
"As someone who grew up here, it is fun to imagine what aspects of Vegas childhood inspired elements and settings of the stories," says Henley, who starred in the performance of Lincoln's BMX bike story. "The Smith Center is such a great destination for kids to be exposed to, and knowing they are experiencing so much art and culture here is very cool."
Story Pirates often observes that their shows help students find new confidence with writing, she adds.
"A lot of kids are really empowered by seeing a professional show written by kids just like them," she says. "They run up to us after the show to tell us they can't wait to go home and write a story."