6/12/2018
Discovering The Smith Center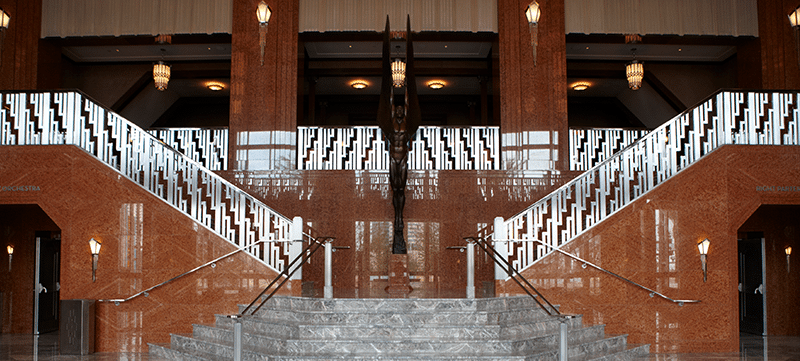 There is much more than you know to The Smith Center, Southern Nevada's leading performing arts center. Curious? You can discover all about our center's exciting stories and inspiring history by signing up for one of our free public tours, available two to four times a week. 
Below is just a taste of intriguing things you'll learn about during public tours of The Smith Center:
The Facility's Design is Based on the Hoover Dam
Does the majestic Art Deco style of The Smith Center look a bit familiar? The facility's design is based on the Hoover Dam, in honor of the dam's vital role in Las Vegas' growth as a city.
Even the "Genius in Flight" statue in our Grand Lobby is an homage to the iconic "Winged Figures of the Republic" statues found at the Hoover Dam.
You Can Scope out the Best Seats in our Three Theaters
Many might not be aware that The Smith Center offers three unique theaters: the stunning Reynolds Hall (seating 2,050), the intimate and stylish Myron's Cabaret Jazz (seating 240) and the versatile Troesh Studio Theater (seating up to 250).
Not only will you have a chance to explore each of these venues on a tour, but you can pick out the best section to sit in during the next performance you see!
A Pig Resides in The Smith Center
OK… Not a real pig. But a detailed bronze sculpture of a pig can be found on display inside the Founders Room at The Smith Center. This artwork is on loan from a collection of The Smith Center's namesakes, the late Mary B. and Fred W. Smith – the latter of whom served as chairman of the Donald W. Reynolds Foundation, which made The Smith Center's opening possible through its significant contributions.
Why a pig? Mary, an Arkansas native, was a steadfast fan of the University of Arkansas Razorbacks, to the point she amassed a collection of over 2,000 razorbacks.
It Took Nearly 20 Years to Plan and Open The Smith Center
Opening The Smith Center involved nearly two decades of fundraising, planning and designing, which required the hard work and vision of numerous community leaders, the approval of multiple levels of government and the passionate support of community members just like you.
Don't miss out on hearing the whole amazing story behind how this world-class facility came to be.
Register for a Free Tour
Online registration is required to participate in a free tour of The Smith Center. To view the upcoming schedule of tours and to book a reservation, please click here.