8/5/2020
Education and Outreach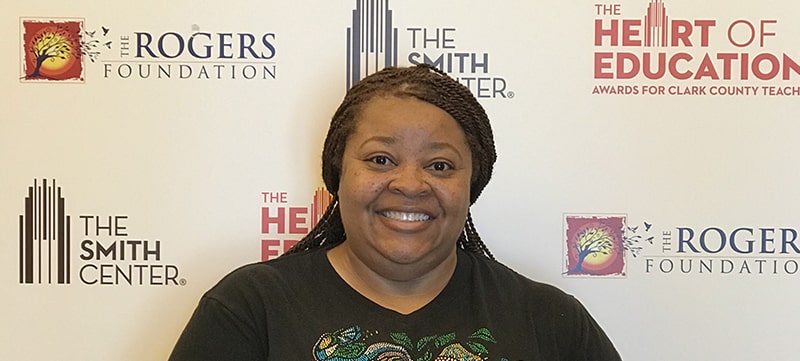 Belisa Brownlee admits she never wanted to teach.
At least, not until she entered law school and realized becoming a lawyer was no longer her dream.
When Brownlee observed a close friend entering the teaching profession, she felt the draw of a new career where she could make a difference.
"I prayed about it, and teaching started presenting itself," she recalls.
It's a good thing she heeded the call.
Now after teaching for 11 years, Brownlee has combined her talents with education and the law.
She significantly expanded Rancho High School's Criminal Justice course into a multi-class program that allows high school students to earn up to six college credits.
Thanks her to hard work, Brownlee receives regular updates from former students now pursuing criminal-justice degrees at college, all following the path she put them on.
"I love that the kids are so interested in this program, and that this interest gives them a head start in life," Brownlee says. "Kids who never even considered college now see there is a way."
In honor of the many lives she touches, The Smith Center recognized Brownlee as one of the 20 top teachers for its fifth-annual Heart of Education Awards, celebrating outstanding educators with Clark County School District (CCSD).
In spite of the cancelled awards event due to public health and safety guidelines, Brownlee and the other honorees still received a $5,000 cash award, thanks to support from The Rogers Foundation.
Her school will also receive a $1,000 donation.
"It felt pretty amazing," she says of receiving the award. "Sometimes (teachers) get so tired and start to doubt our abilities. This puts things back into perspective and refuels the desire to get back in there."
Empowering All Students
Brownlee inspires students even beyond her criminal justice program.
She serves as advisor for the Black Student Union, which empowers Black students and educates youths across the school about community issues.
She also leads the club members in civic-minded projects, such as a clothing drive benefiting low-income students.
"I feel that (club members) must understand the plight of all people," Brownlee says. "There is a large homeless population at our school. If people have these basic, fundamental needs met, they are more inclined to feel good about themselves and attend school."
Communicating at a Distance
To help students process their feelings during the pandemic, Brownlee schedules regular Google Meet-Up sessions to discuss the quarantine and nationwide protests.
"Students just really have a desire to speak on these things, and need to be heard," she explains.
She also joined a Facebook Group adopting graduating high school seniors, and she's helping a student prepare for her first year at University of Nevada, Las Vegas in unusual times.
When Brownlee needs to boost her own spirits, she revisits her binder collection of thank-you letters that students send her each year.
"Students often ask why I don't practice law and get a big check," Brownlee says. "I tell them, the time I spend with them and their understanding and succeeding is my million-dollar check."