8/3/2020
Education and Outreach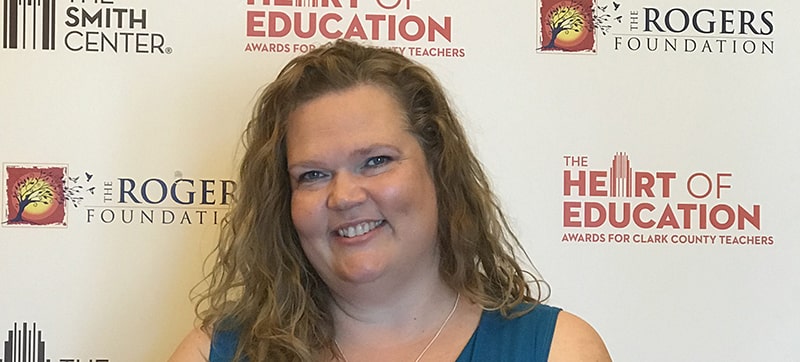 Elizabeth Harris feels nothing but enthusiasm about arriving at school an hour early to coach her Mathletes students.
"These kids all have a desire to improve their skills, and bring a positive attitude to class each day," says Harris, a teacher at Lied STEM Academy. "When kids come to you and ask for more math, the only correct answer to that question is 'yes.'"
Harris answers yes to many more students' requests for support.
This includes providing daily math tutoring during lunchtime, attending students' performances and sporting events to cheer them on, and leading Golf Club twice a week to fill the high demand.
For many students, Harris' dedication helps shape their education.
"The kids feel safe and cared for when they are in my room," she says.
A Humbling Honor
The Smith Center honored the impact of Harris' efforts this year by naming her one of the top 20 teachers for the center's fifth-annual Heart of Education Awards, recognizing Clark County School District (CCSD) teachers who go above and beyond.
The 20 honorees each receive a $5,000 cash award, thanks to support from The Rogers Foundation, as well as a $1,000 donation to their school.
They learned of their awards through a surprise Zoom call from Myron Martin, Smith Center CEO and president, due to the cancellation of the annual awards event under public health and safety guidelines.
"It still feels extraordinary, unreal and humbling," Harris says of the honor. "The nomination letters that the teachers receive literally revive us and help us to continue what we do."
Transforming Lives
Harris' dedication touches many lives.
She recalls one student who she tutored daily, after he scored at the bottom of his class in a math assessment test.
With Harris' help, he not only threw himself into his studies — he also joined her Mathletes club and never missed a practice.
"By the time of the Winter benchmark testing, his scores placed him at the top of his class," she says.
A Family Learning Together
As if Harris' work with students weren't enough, she also teaches math to adults at night to help them earn their high school diplomas.
Her work recently involved teaching three women in the same family.
This included two adult sisters who had both dropped out of high school when they became pregnant, and one of their grown daughters who also dropped out upon becoming pregnant.
"They stuck together and made a pact to finish their high school education together," she says. "They told me that their dream was to walk across the graduation stage together."
Harris worked hard with all three to make this dream come true.
Now, one of the sisters and the grown daughter have finished their requirements. The remaining sister needs to complete just one more math class.
"Due to COVID-19, their big moment has been delayed, but I am confident that the trio will make it to the graduation stage," Harris says.
Hope for the Future
Even with the significant impact of the pandemic on the school district, Harris places firm hope with teachers' abilities.
"Teachers do more than educate these future citizens. Teachers give them hope. They love, counsel, feed and clothe their students," she says. "Teachers are some of the most caring, dedicated and hardworking people I know."