7/20/2020
Education and Outreach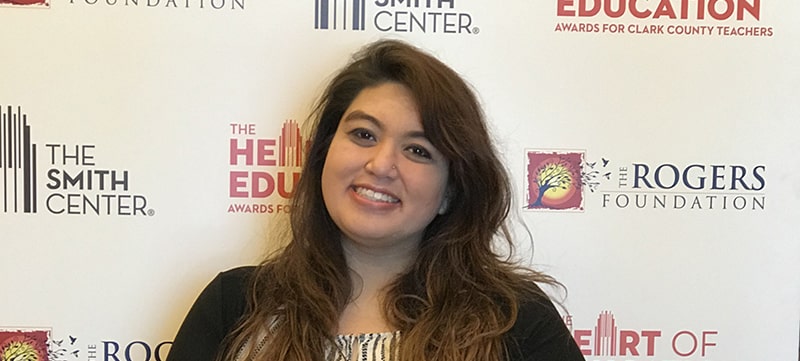 Some might think a pandemic would make it difficult to teach robotics.
But Carolyn Lara, STEM Robotics teacher at Spring Valley High School, didn't let COVID-19 or the closure of Clark County School District (CCSD) stop her from guiding her students to learn and lead.
After building her school's robotics club from five students to 30 — and attracting over 100 students to take robotics classes — she seized every opportunity after the outbreak to continue teaching.
This included connecting with students through Remind and Google Classroom, on top of providing them with online courses, resources, workshops and details of competitions. She conducted weekly online Robotics Club meetings.
Lara even left signs of congratulations on the doorsteps of graduating seniors.
"We are really educators for life in a lot of ways, and a pandemic doesn't end that," she says. "I want them to know I believe in them and their ability to change the world for the better."
These cover just a few of the reasons The Smith Center honored Lara as one of the top 20 teachers for its fifth-annual Heart of Education Awards, celebrating outstanding CCSD teachers.
Even with the cancellation of the annual awards event due to public health and safety guidelines, each honoree still received a $5,000 cash award, thanks to support from The Rogers Foundation. Each winner's school also receives a $1,000 donation.
"It was such an overwhelming feeling of gratitude and honor," Lara says of earning the award. "Parents tell me how robotics has changed their child's life in ways I didn't even realize. It reminds me of how important my work is, even when it feels overwhelming or difficult."
Computing a Colossal Commitment
Even with her basic construction knowledge from being raised by a contractor, Lara worked hard to master skills for teaching robotics.
She took online courses to learn coding and engineering, and usually invests up to 40 extra hours a week at school during competition season.
While she cheers on the kids as they learn STEM skills through the program, she hails the greatest achievement as watching them build confidence, teamwork and leadership.
"So many students tell me they never thought they could build and code a robot, then they do it and it makes everything suddenly possible in their world," she says.
Diversity Through STEM
Lara's robotics program also helps students embrace their differences.
Her club includes immigrants, adopted and foster children, athletes, students with disabilities and youths with past behavioral issues. They all come together, she says, to collaborate and create.
"They all work well together because they know at the end of the day a diverse family of engineers is priceless," she says. "They can learn from one another's experiences and they use that to find creative solutions and ideas."
Investing the $1,000 donation from the Heart of Education Awards into the robotics club, Lara expects her students will tackle any obstacles to dive back into their work.
"I know in my heart that at least one of my kids is going to change the world for the better in some big way, and I can't wait to see what it is and how they do it," she says.
Nominate a CCSD teacher who goes above-and-beyond for a Heart of Education Award HERE.